Second Honeymoons Can Be Murder
Susan Santangelo
Reviewed for the NABBW by Anne Holmes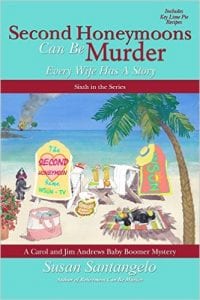 Susan Santangelo's latest book continues the adventures of upstate New Yorkers Carol and Jim Andrews; typical Baby Boomers, except that Carol has an unusual habit of encountering dead bodies wherever she goes. Fortunately, with the help of her many friends – but not necessarily with help from the police – plucky Carol is always able to solve the crimes.
As the story begins, we find Carol and Jim "canoodling" on the glorious white sand beach at Honeymoon Island, Florida.
Or at least Jim is trying to get amorous; Carol, as usual, can't get comfortable with the concept – because she's haunted by images of Sister Mary Evelyn, her former health teacher at Mount Saint Francis Academy,  who had drilled her students that, "A proper young lady NEVER allows her hormones to get the better of her in a public place. Girls, you must keep your knees together at all times. And always allow room for the Holy Ghost when you are dancing with a boy."
We soon discover that Jim is still retired from his former marketing agency, Gibson Gillespie, but he – and Carol – have been recruited by GG to help market a new game show, The Second Honeymoon Game, focused on the Baby Boomer market, and featuring second honeymoons as the coveted prize.
Therefore, Carol and (the somewhat parsimonious) Jim are in Florida enjoying their all-expenses paid luxury vacation courtesy of CKP (Charles King Productions), GG's newest client. Client Charles King has insisted that GG bring on both Carol and Jim on as consultants, to promote the Baby Boomer focused game show, because "they so perfectly fit the demographic."
When she first heard this, Carol was properly confused, but client King's reasoning becomes more clear at their first New York City client meeting, when she discovered that big time reality show producer Charles King is, in fact, her former grade-school classmate, Chuckie Krumpelbeck. Apparently Chuckie/Charles had a huge – but largely unreciprocated – crush on Carol back in the day, and still carries a touch for her today.
As King explained at the meeting, the main reason he selected the Gibson Gillespie agency was their promise that Jim could be enticed to work on the project. He didn't want "some young kid" working on his new show.
Jim tells Carol that she's just there to be his assistant, not to actually get involved. And while Carol agrees, those readers who know Carol know this is a promise she won't be able to keep.
Which is why, at that initial NYC meeting, Carol immediately objected to the show's casting. (It seems that CKP staff had planned to hire young actors, then age them with makeup and costume to "look like" Baby Boomer aged contestants.)
So off to Florida go Carol and Jim, with the goal of enjoying a free vacation while the show's pilot is shot. And with CKP footing the bill. (Not only is the trip all expenses paid, but Carol and Jim fly down to Florida on a CKP jet, and are even encouraged to bring dogs, Lucy and Ethel along!)
However, their anticipated white sand beach idyll doesn't last long. Mere minutes after hitting the beach, Carol and Jim's car mysteriously blows up. And wouldn't you know it: there's a burnt body found in the car. Worse, forensic experts soon reveal that the body was Charles King — and somehow Carol and Jim's son Mark becomes their number one suspect. (You'll have to read the book to find out how this happens.)
Suddenly, this is no longer the second honeymoon Carol and Jim expected. And those of you who've read Santangelo's five earlier Baby Boomer Mystery books know that despite all Jim's admonishments, Carol is bound to get involved in the murder investigation. And therein lies the book's undeniable entertainment.
Author Susan Santangelo divides her time between Cape Cod and the west coast of Florida. She is a member of Sisters in Crime, International Thriller Writers and the Cape Cod Writers Center, and shares her life with her husband Joe and two very spoiled English cocker spaniels, Boomer and Lilly. Boomer also serves as the model for the books' front covers, and Lilly is pictured on this book's back cover.
She donates a portion of the sales from these books to the Breast Cancer Survival Center, a non-profit organization based in Connecticut which she founded in 1999 after being diagnosed with cancer herself.
Just for the record, here are the titles of the other books in this Baby Boomer Mysteries series: "Retirement Can Be Murder," 2009; "Moving Can Be Murder," 2011; "Marriage Can Be Murder," 2012 (features a destination wedding on Nantucket and was chosen as one of Suspense Magazine's 2012 Best Mysteries); "Class Reunions Can Be Murder," 2013 (this one takes place at Carol's 40th high school reunion); and "Funerals Can Be Murder," 2014.