Moving Can Be Murder
Author:  Susan Santangelo
Website: www.babyboomermysteries.com
Reviewed by:  Anne Holmes for the NABBW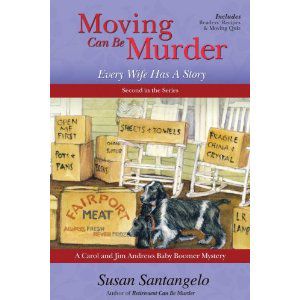 Carol and Jim Andrews are back in this second installment of author Santangelo's "Every Wife Has a Story" Carol and Jim Andrews Baby Boomer Mystery series. This time around, they're right in the midst of Moving away from their beautiful Victorian home of 34 years.
It seems that since taking early Retirement, Jim has convinced Carol that their lovely antique home is actually a money pit – bleeding money left and right. Not to mention that he's not too excited about having to spend time handling the yard work.
So, after much discussion, they've decided it is time to move to an "Active Adult" community where climbing stairs and shoveling snow will become activities of the past. Things go smoothly at first: They sell their beloved home immediately and make a down payment on a retirement home.
But then the smooth move quickly skids to a halt: During a late night "pity party" the night before the moving van shows up, Carol stumbles over the dead body of their buyer — in the house. Obviously, the sale is off.
Worse, it now seems their intended retirement community no longer wants them, their temporary apartment home is too small, and finding another retirement community that's also dog friendly is really going to be a challenge.
Bottom line: Carol, Jim and their English Cocker Spaniels, Lucy and Ethel, are forced to think hard and fast about what they must do next.
Carol, never one to sit quietly, also wants to know who murdered their buyer. But then again, was he actually murdered?
Bottom line: Moving Can Be Murder is another fun read from author Susan Santangelo, who earlier introduced us to Carol and Jim in her earlier book, Retirement Can Be Murder. It's populated with fun and believable characters – thankfully all your favorites from the first book are back, plus a few more.
Better yet, when you get to the end of the book, you'll discover two gifts from the author:
First up: A "moving quiz" designed to help you decide whether you ought to stay in your current home or look for an enticing retirement community.
Second, Author Santangelo has included over a dozen delicious recipes in case you and your friends want to host a Bunco party, as Carol does in the book. Parmesan Cheese Puffs or Crab and Brie Tartlets, anyone? Yum!