Marriage Can Be Murder: Every Wife Has a Story
Author: Susan Santangelo
Website: http://www.babyboomermysteries.com/
Reviewed By: Anne Holmes for the NABBW
Carol and Jim Andrews are back again in this third installment of author Santangelo\'s "Every Wife Has a Story" Carol and Jim Andrews Baby Boomer Mystery series.
This time we learn that Carol is thrilled when daughter Jenny announces her engagement to Mark. After all, like almost every Boomer mother, she\'s been dreaming of being the MOB (mother of the bride) at Jenny\'s wedding since Jenny was born. And both Carol and Jim think Mark is a perfect match for Jenny.
She\'s also delighted at Carol\'s suggestion that brother Mike and his bride Marlee join them – making it a double wedding. Yes, Mike and Marlee are already married, but they eloped – so Jim and Carol didn\'t get to be there.
The wheels start to fall off the wagon when Carol finds out that she won\'t get to plan the wedding. It seems Jenny wants to get married in her favorite place in the world – Nantucket – and she wants to get married in two months, during the weekend that annually kicks off the winter holiday season there.
Since it\'s a destination wedding and time is short, Jenny wants to hire Tiffani Blake, a professional wedding planner who claims she\'ll be able to pull this off, because she specializes in Cape Cod celebrations.
Tiffani, the owner of Cinderella Weddings, may be extremely capable, but Carol\'s not too hot on her. Not just because she feels muscled out of her MOB role, but also because she soon realizes she\'s the same Tiffani who\'s having an affair with Bob Green, the husband of Carol\'s best friend, Nancy.
The fun really gets going when Carol and Jim join Jenny and Mark in Nantucket to scout out wedding sites. They\'re all booked at the Grey Gull Inn, which appears to be the number one choice for venue until Carol makes a midnight trip to the hallway bathroom and finds Tiffani\'s body at the bottom of the staircase.
Worse yet, Bob Green\'s also in town, and soon becomes the prime suspect in her death.There are plenty of other surprises in this book – like, did the murderer accidentally kill the wrong person?
As with all Santangelo\'s books you\'ll thoroughly enjoy this one, especially since all the usual characters – Carol, husband Jim, the dogs Lucy and Ethel, best friend Nancy Green, and Carol and Jim\'s magnificent house – continue to be part of the story.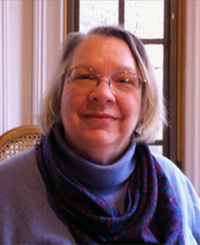 As "Boomer in Chief" of the National Association of Baby Boomer Women, Anne is passionate about educating, empowering and enriching the lives of Baby Boomer Women, as we now begin to age beyond our middle years and enthusiastically launch ourselves into life's next stage – which most people call old age. We Boomers know aging doesn't have to diminish us. We still have a lot to offer the world, and we continue to be ready and willing to enthusiastically participate.

Actively involved with a number of Boomer-focused organizations and committees, Anne keeps a steady finger on the pulse of this still-spirited generation, with the goal of helping us all to enjoy life, stay healthy and continue to live lives that are rich in every sense of the word. Beyond that, Anne is dedicated to helping facilitate the positive interaction between Baby Boomers and the hard-working younger generations who are readying themselves to "take the world's reins" and continue our efforts to move society in a positive direction.