Class Reunions Can Be Murder — Every Wife Has A Story; A Carol and Jim Andrews Baby Boomer Mystery
Class Reunions Can Be Murder — Every Wife Has A Story; A Carol and Jim Andrews Baby Boomer Mystery (Baby Boomer Mysteries)
Kindle edition
Author:  Susan Santangelo
http://babyboomermysteries.com/
Reviewed for NABBW by:  Anne Holmes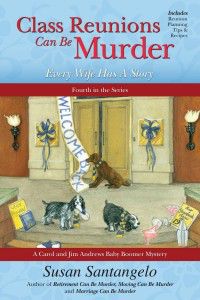 This book, the fourth of her Carol and Jim Andrews cozies, continues the humorous Baby Boomer Mystery series featuring Carol Andrews and her beloved husband, Jim, who somehow seem to regularly run into dead bodies as they navigate life\'s highway toward their twilight years.
This time around, the story begins as Carol's fortieth high school reunion is on the horizon. Of course, she has no interest in attending, as her memories of her years at Mount Saint Francis Academy are mixed, to put it mildly.
But BFF Nancy is having none of this, and quickly convinces Carol to join the reunion planning committee, so she\'ll have some say in how the event is organized.  After all, the venerable Mount Saint Francis Academy is about to be converted into a senior living facility. There will soon be no more school to visit.
With the exception of the publication of a salacious, YouTube promoted  e-book , "Fifty Shades of Navy," which appears to have been written by someone with intimate knowledge of their high school  — a photo of Mount Saint Francis Academy is featured on the cover  —  all goes relatively smoothly for the committee during their planning phase.
In fact, they decide to celebrate by spending the night before the reunion at the school. An opportunity made possible since the area of the building that had served as the nun's cloister has already been converted into sleeping rooms. That's when the dead body of one of their classmates is found at the school turned Retirement home — in one of the beds in Carol and Nancy\'s room.
Suddenly Carol and her friends have more to worry about than whether or not to provide photo-enhanced name tags…
You'll find all your favorite characters are back in this episode – plus, you'll meet a handful of new ones – Carol's former MSFA classmates. Is one of them the murderer? And if so, why?
An early member of the Baby Boomer generation, Susan Santangelo has been a feature writer, drama critic and editor for daily and weekly newspapers in the New York metropolitan area, including a stint at Cosmopolitan magazine.
A seasoned marketing and public relations professional, she has designed and managed not-for-profit events and programs for over 25 years, and was principal of her own public relations firm, Events Unlimited, in Princeton NJ for ten years. She also served as Director of Special Events and Volunteers for Carnegie Hall during the Hall\'s 1990-1991 Centennial Season.
These days Susan divides her time between Cape Cod, Massachusetts and the Connecticut shoreline. She is a member of Sisters in Crime and the Cape Cod Writers Center, and also reviews mysteries for Suspense magazine. Susan shares her life with her husband, Joe, and one very spoiled English cocker spaniel, Boomer, who also serves as the model for the books\' covers.
As with her other books, a  portion of the sales from Class Reunions Can Be Murder is donated to the Breast Cancer Survival Center, a non-profit organization based in Connecticut which Susan founded in 1999 after being diagnosed with cancer herself.