Grit in Your Craw: The Eight Strengths You Need to Succeed in Business and in Life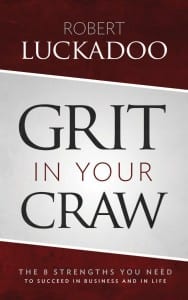 Grit in Your Craw: The Eight Strengths You Need to Succeed in Business and in Life
Author: Robert Luckado
Reviewed by Anne Holmes for the NABBW
Let me make one thing immediately clear: Though unassuming in its looks, at just 5 x 8 and a shade over 100 pages, with a rather monochromatic cover and an odd-sounding – though memorable — title, you might a first be tempted to overlook when browsing the business section of your favorite bookstore.  But you would be making a mistake.
 In a concise but approachable manner, author Robert Luckado, a man who's been successful in many arenas, provides readers with eight memorable and fascinating mentoring lessons. He begins by making clear that he doesn't believe in luck, good or bad  — despite the fact that his last name begins with the word.
Instead, he says, he believes that we can all create our own good fortune via appropriate use of our God-given blessings and opportunities. All it takes, he says, is grit – or a passion for perseverance. The stamina to stick with your goals for as long as it takes to achieve them. The passion to "stick it out" during the tough times.
Like all great coaches, he makes his points relate-able, beginning each chapter with a Biblical quote, and then launching into a personal story that illustrates how that chapter's topical strength played out his his own life. It's down-home wisdom, dispensed by a man who's clearly "walked his talk."

In reading the book, you soon understand why Diligence, Tenacity, Optimism, Flexibility, Discipline,
Resilience
, Confidence and Purpose are so important to success. And you'll believe Luckado, when he promises you that your own success is achievable.
But why would you have any reason not to believe a man who's found success in such a variety of arenas? Robert Luckado majored in geophysics in college, went on to receive an MBA, and then became a startup expert, creating a total of seven businesses,  each of which he grew to maturity, then sold for a profit. Along the way, he's been a NASCAR team owner and driver, a collegiate fast-pitch softball coach and a financial services professional. If you want to know more about him, he invites readers to
email him,
follow him on
Twitter
, or
check out his website
, where you can also sign up for his blog.