Your High Risk Pregnancy: A Practical and Supportive Guide
Your High Risk Pregnancy: A Practical and Supportive Guide
Author:  Diana M. Raab, MFA, RN with Errol Norwitz, MD
http://dianaraab.com/nonfiction.html
Reviewed by:  Anne Holmes for the NABBW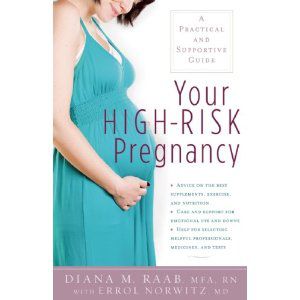 When the core of this book was originally released in 1987 (under the title, "Getting Pregnant and Staying Pregnant: A Guide to High‐Risk Pregnancies") it was a pioneering title.  I know, because I'd actually searched for a book of this type ten years earlier during my first of two high-risk pregnancies, and had it existed, my old copy would be dog-eared, sticky-noted and full of underlining and comments.
Author Raab tells us the original book was born on a typewriter perched on a table suspended above her expanding belly as she experienced a her first of three high risk pregnancies, all  highlighted by bed-rest.  A practicing nurse, she was hungry for additional information – had already become a proponent of Journaling, and found herself with a lot of time on her hands.
Now, more than twenty years later, as a full-time writer and nurse, as well as a parent of three children, Raab has updated the book, joining forces with world‐renowned Dr. Errol Norwitz, from Yale School of Medicine to provide a straight-forward and compassionate guide to managing difficult pregnancies.
And the world is a better place as a result. After all, these days, thirty percent of all pregnancies are designated high‐risk. That number is significantly higher than when the book was first released.
As Dr. Norwitz explains in his forward, the term "high risk pregnancy" is frequently misunderstood. It does not mean bad outcome, but it does mean you need to be more vigilant, you may need more frequent office visits, and you may need to consult with specialists. "Knowledge is power," he concludes.
High risk factors include hypertension, vaginal bleeding and gestational diabetes, and the book includes extensive information on these topics, as well as advanced age pregnancies and genetics problems.
This book also contains chapters/discussions on
Prenatal care
Analyzing and diagnosing high risk factors
The tests, medications and procedures necessary for a healthy and successful pregnancy
The benefits of natural birth vs. caesarian section
Use of antibiotics and pain-killing injections
Complications during and after delivery
Postpartum care
Perhaps the best part of the book, in my opinion, is the journaling prompts Raab has interspersed at the end of each chapter, so that the reader can write about her own experience. Of course, since Diana Raab is a journaling advocate this makes sense. Beyond, that, bed-rest can be a very lonely time, and journaling on your fears, concerns and emotions is very important therapy.