Scandinavian Classic Baking
Author: Pat Sinclair
http://pelicanpub.com/proddetail.asp?prod=9781589808973
Reviewed by: Anne Holmes for the NABBW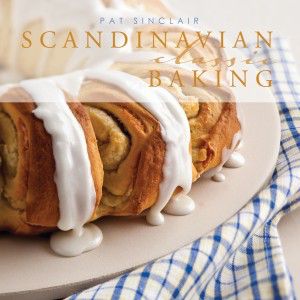 Scandinavians are known for their warm hospitality, welcoming family and friends into their homes with coffee and baked goods. Drinking coffee is almost the national pastime, and delicious breads and cookies are always served alongside the coffee.
In Scandinavia, "Coffee tables" are a popular means of celebration, loaded with hearty breads, delicate sweets like Desert Sand Cookies, and whipped cream cakes such as Strawberries and Cream Cake. After the long winters, Spring is celebrated with simple fruit tarts.
This book, which features a mouth-watering photograph by Joel Butkowski for every recipe, is a must-have" for anyone of Scandinavian heritage, whether you cook or not. And it's equally desirable for anyone who's ever had the opportunity to enjoy dining on Scandinavian baked goods, like lefse, krumkake, Swedish limpa rye bread or Danish aebleskiver.
While this is clearly a cook book, it is also a "coffee table" book, (pun intended) in that it not only showcases one recipe per page spread, with the left hand page featuring the mouth-watering product photo while the right hand page provides the recipe  – but the right column of each right hand page offers almost a travelogue style peek into current day Scandinavian life, with a photo and caption worthy of a tourist brochure.
Offering more than forty recipes, Scandinavian Classic Baking provides recipes for a wide range of treats, from simple cookies and muffins to elaborate princess cakes. Carefully written directions and attention to detail guarantee success for both novice and experienced bakers.
The chapters are broken down into coffee breads, cakes, cookies, tarts fruit desserts & pastries, and traditional favorites. Don't miss the Danish Almond Tea Ring which is featured on the book's cover, or the Swedish Kringle!
These are recipes to be shared and cherished for generations.