Women, Wealth & Giving – The Virtuous Legacy of the Boomer Generation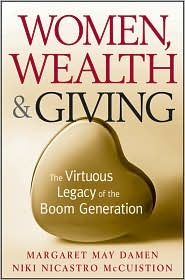 Authors Damen and McCuistion wrote this book for two audiences:
Baby Boomer Women
who want to create a formalized and strategic giving plan, and fundraisers and development officers who need to better understand the giving culture of women
Boomers
.
The authors draw on their combined experiences – Damen as a Certified Financial Planner, investment adviser and endowment gift planning design specialist and McCuistion as a nonprofit founder, CEO and consultant – to challenge their readers to take a great leap forward for the love of humanity. They make it clear that they believe there is no better time than now to open a window in your heart, kindle a flame and light your spirit with a passion for living a purposeful life.
After reading Women, Wealth & Giving – The Virtuous Legacy of the Boomer Generation, I felt so empowered, so enlightened.
Midlife signals a time for us to take charge, speak out and to take action on issues that beg for change. Women, Wealth & Giving is a carefully designed path guiding women to forge ahead, armed with knowledge and know-how. It clearly shows that women want a purpose, and hope to leave a footprint; a legacy in their wake. The conclusion…its all about the passion and what motivates us to open our hearts, our minds, and our pocketbooks.
Each chapter delves deeply into the world of Philanthropy with interviews and stories, raising awareness for your cause, the why\'s, how\'s and different ways to give. It defines the roles each of us can play in this powerful chosen rite of passage.
Identifying your "giving personality," as well as, the legal and technical issues (I had no idea how important this chapter could be), were of particular interest and may help the reader identify their own voice of philanthropic expression.
If you have a thirst for knowledge and want to enhanced your giving experience, be it through donations or volunteer work, Women, Wealth & Giving will show you the way. Here\'s to a better world…and that\'s what this book is about.
I encourage women to read this book, and when you do, you\'ll be urged just as I was, to leave…a virtuous legacy.