The Best of Everything After 50: The Expert\'s Guide to Style, Sex, Health, Money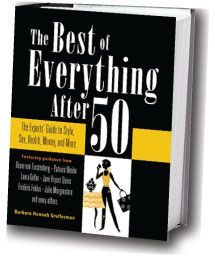 I loved the introduction to this book. Author
Grufferman
starts out by saying, "
I wrote this book for me
."
She goes on to explain that once she got over the shock of turning 50, she wanted to do it right. That is:
She wanted a plan for dealing wither new reality.
She wanted to streamline her life down to the essential elements
She wanted a go-to reference guide to her changing body and lifestyle
She wanted a straightforward book that would put all the most useful information in one place, with common sense, but without fuss or jargon
And most importantly, she wanted to know if she could still wear blue jeans, especially her faves a great pair from 7 For All Mankind
Grufferman spoke with her friends, looking for answers, and found out they really didn\'t know these things either, but they wished they did…
So she searched out the top experts in all her key fields, asked them her questions, put herself in their hands, did their programs to check their efficacy.
The experts she spoke with were New York\'s finest, including:
Diane von Furstenberg on smart Fashion choices
Frederic Fekkai on fabulous hair at any age
Dr. Patricia Wexler on the most effective skin program
David Kirsch on exercise that really works
Esther Perel on sexuality, feeling sexy and reigniting the fire
Julie Morgenstern on organizing your life to get ready for what\'s next
Jane Bryant Quinn on financial concerns
Laura Geller on fast and easy makeup tips
And a bevy of top docs from New York University on key health checks
Once she had her answers, she shared them with her friends. And, since the result is this book, you\'re a beneficiary, too.
Just over 300 pages, the book contains, Grufferman says, everything you need to know to be the best you can be. But just in case her manual misses one of your top questions, each chapter ends with a handy list of websites you can reference to get more information. I\'d call this a "must read!"