The Art of Table Dancing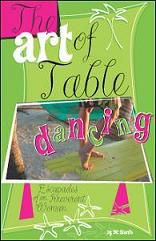 DC Stanfa is an amazing author who pours humor and the importance of self-esteem into her writing. This compilation of true stories covers childhood; questioning authority and religion, through adulthood; with all its pain and pleasure, dating and rejection, angst and discovery.
It is well written, enjoyable and is at times painfully honest. The Art of Table Dancing is about the transformation from ugly duckling to beautiful womanhood¬óinside and out. DC openly shares learning to accept herself, love herself and to trust her own instincts; things we all wrestle with. By reading about her own struggles through a humorous lens we can begin to laugh (a little) about our own life tales; the ones we want to celebrate and the ones we still shudder over. This is one book you will definitely enjoy reading!