Our Lady of Weight Loss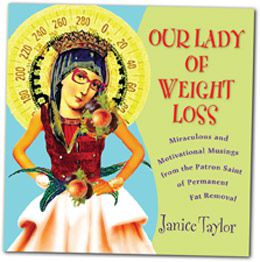 Maybe it\'s because I was raised Catholic, but I thought Our Lady of Weight Loss:
Miraculous and Motivational Musings from the Patron Saint of Permanent Fat Removal
was off the scale. I\'ve never seen a diet book quite like it. It\'s creative, clever, and full of wit and fun. The illustrations are worth more than the price of the book.
Janice is an artist and she shares illustrations of her art work that will make you belly laugh. Her thought on losing weight is to do something creative when you think of food. Don\'t eat every time you think of food, create instead.
The fact that "fried" is her favorite food group connected us right away. Her reminder for us to wear thongs when weighing in because they weigh less than grannie panties made me roar. She shares graces like this one: We love our bread, we love our butter, but most of all we love each other. Thanks for the grub. You gotta love this woman. When talking about how important water is for our diets, she labels the chapter, Our Lady of Holy Water. The illustration is of Our Lady of Weight Loss holding a bottle of water and white gloves like we wore to church eons ago. Way too funny.
She offers FaToids throughout which are dashes of fat trivia, and shares her reader\'s letters which are often seeking forgiveness for overeating. She forgives and tells them to carry on, almost like the priest who forgave our sins in the confessional.
By now you know this is not a heavy, you must be a stickler type diet book. However, Janice\'s attitude toward dieting definitely made me want to drop a few pounds. I\'ve lost two so far and I just finished reading last week.