LifeLines: A Collection of Works by Six Women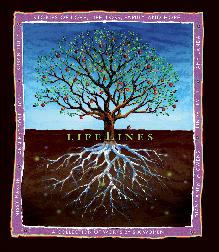 Amy Landa, Linda Levitt, Missy Martin, Diane Amento Owens, Ann McCoole Rigby, Susan Tully
LifeLines is a compilation of essays written by six women. Each author conveys her unique personality within a main text: women writing about the human condition in a perfectly female perspective. Each writer had another career besides that as daughter, wife, and mother, among them a teacher, astrologer, accountant, occupational therapist, public administrator, and mental health administrator. For these women, who met twice a month to write and critique their work, a book of well-developed stories evolved called LifeLines.
The book is divided into 12 categories with clever titles that reflect the "lifelines" theme: Line-up, Bloodlines, Sidelines, Mooring lines, Punchlines, Walking A fine Line, Holiday Lines, Severed Lines, alignments, Intersecting Lines, Bottom Line. In each chapter, every author contributes an appropriate reflection of that category. For example, "Lineup" is a chapter that defines the "who\'s who" of the entire book, describing in each author\'s voice her own brief biography in her own specific style. Amy Landa writes about the intensities of life with a creative prose. Linda Levitt uses details to describe in totality what she is conveying. Missy Martin writes clear and concise. Diane Amento Owens, a mother of four teenagers, writes with a sharp wit. Ann McCoole Rigby weaves the bitterness of her arthritis within her sweet observations of life. Susan Tully writes with a distinctive sense of humor. With six unique voices, there is a style to resonate with any reader.
The book offers the reader an analysis of life, love, and loss. The authors examine relationships, make confessions, and offer revelations. They cover civil rights, child-birth, infant death, and divorce. They explore the lessons learned from parents and as parents. Prose, poetry, and illustrations enrich the book and engage the reader.
Each author writes with a generous spirit, and then the authors give even more. The last chapter, Bylines, is about the writing process and the support within writing groups. If a reader is looking for essays with an honest exploration, then LifeLines is a reader\'s choice.