The Cancer Solution: Taking Charge of Your Life With Cancer ~ A Cancer Handbook for Inquisitive Laypersons and Health Care Professionals
Author: Jack C. Westman, MD, MS
Reviewed for the NABBW by Anne Holmes
Author Westman, a psychiatrist by training, tells us right away that it was his wife Nancy's 34 years of life with cancer, and her ultimate death that compelled him to learn all that he could about current day cancer research and treatment. He quickly points out that cancer inevitably affects all our lives, as one in three will die of it. And the rest of us will know someone – or several someones – who succumb.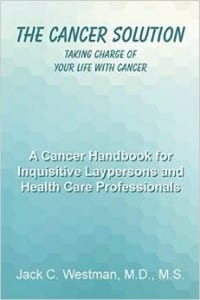 As I pause to consider how to best review this book, my mind turns to a fictional doctor I recently watched deal with her own cancer, Dr. Lillian DePaul, from the Showtime series, Masters of Sex. Why did I think of her? Because through watching her treatment, I learned that while we have clearly not yet won the War on Cancer, we are all better off when dealing with the disease today. Back in the early 1960s, there were no cures, and even the palliative care was barbaric.
Even today, once cancer is diagnosed, there are really only three ways to treat it: surgery, radiation, and chemotherapy. But a growing body of evidence shows that patients who are actively involved  in their health care have better outcomes, and endure lower costs. Which is why today, many public and private health care organizations are educating people about their conditions, and more actively involving them in
Healthcare
decisions.
And, this is also why we now hear about "alternative," "complementary" and  "integrative" treatments. Just for clarity, "alternative," refers to a non-mainstream approach to dealing with health issues. "Complementary" refers to using a non-mainstream approach together with conventional medicine. And "integrative" healthcare providers are willing to integrate these alternative and complementary treatments — such as guided imagery, yoga, acupuncture and massage — into their practices.
Primarily these treatments are now recognized as being beneficial for pain management and symptom control. This book includes a chapter to help you determine whether or not an alternative treatment is quackery  — or beneficial.
Westman writes that he had four goals in writing this book. They were to:
Give a broad overview of the different forms of cancer treatment and cancer research using layman's terms
Provide enough technical detail to allow the reader to use the book as a treatment reference
Stimulate interest in complementary care
Encourage the reader to become an informed advocate for the funding of federal and private research focusing on prevention and the treatment of the underlying causes of cancer
Whether you are a physician, a Caregiver or a person with cancer, this handbook is invaluable.