In Search of the Baby Boomer Generation
In Search of the Baby Boomer Generation
Author: Rick Bava
Reviewed for the NABBW by Anne Holmes
Like Rick Bava, I am a Baby Boomer who has developed an encore career dedicated to serving the Baby Boomer generation. Unlike Bava, I did not spend two years traveling the country talking to Boomers of every stripe.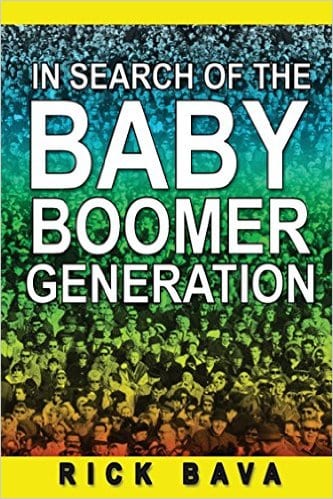 This trip was a critical step, as having done so, Bava has now written what many Baby Boomer experts, myself included, I see as the definitive book on our generation.
It is a core resource piece for anyone of a future generation, who seeks to understand our iconic "pig in a python" demographic group.
But this book is more than just a resource text. I would more liken it to a rather unique combination of autobiography and pop culture history lesson.
A major part of "In Search of the Baby Boomer Generation," is  Author Bava telling stories. Some are his own and others belong to those he's interviewed. But together they shine a light on  21st Century Baby Boomers and the issues that currently challenge us.
Which is a significant undertaking, because we are not now, and never have been a homogeneous group.
The book also looks at where Baby Boomers have been, our rich history, and the cultural aspects so important to us.
Essentially the book is a compilation of several years of Bava's "Rick Bava on Baby Boomers" blog posts, grouped into chapters, each of which covers a major topic of interest for today's Baby Boomers. The columns are engaging, especially as Bava shares huge portions of his own life experiences in them.
I especially enjoyed reading the segments where he recalls his collegiate days at the University of Wisconsin-Madison, as it is also my alma mater.
The book's critical topics include:
Caring for our elderly parents
Second careers
Long-term financial planning
Social Security and Medicare
Estate planning
Marriage dating and family

Social relationships and
The deaths of our loved ones
In reading the book, any of the 78 million U.S. Baby Boomers will not so much like they're reading a book, but more like they are chatting with a peer, or more accurately a long-lost friend. They might even feel like they're at a high school reunion, catching up with someone they used to know but haven't seen for a couple of decades.
That's because Bava has an uncanny way of bringing the reader into each post, causing Boomer readers to recall their own personal experiences and memories.
Author Bava is a Baby Boomer who grew up in the Midwest, attended college on a tennis scholarship, and graduated with a degree in Communication Arts. He became a business pioneer in the field of personal computers, eventually retiring as Director of World Wide Business Development for DEC's Services Division, before starting his own successful communications consulting firm.


After leaving the corporate world, Bava sought an encore career, as many Boomers do. This book is the culmination of interviews he did for his popular blog, "Rick Bava on the Baby Boomer Generation."

Today, Rick continues to engage many thousands of Baby Boomers with his insightful commentary about America's 78 million Boomers. He captivates and inspires Baby Boomers nationwide with his monthly column "The Baby Boomer Corner" in Today's Senior Magazine. Rick also continues to keep his eye on the pulse of the Baby Boomer Generation through his association with the Boomer Nation Radio Show.

His commentary focuses on the diverse lifestyles and life changes of Baby Boomers, as well as their goals and thoughts for today and the future. With his magazine and internet columns, radio shows, keynote speeches, and Social Media messages and now this tantalizing new book, In Search of the Baby Boomer Generation, Rick is frequently referred to as a "Thought Leader for the Baby Boomer Generation."

Rick currently lives in San Diego, California with his wife, Lisa.