The DASH DIET Action Plan: Proven to Boost Weight Loss and Improve Health
Author: Marla Heller, MS, RD
Website: http://dashdiet.org/newdashdietbook.asp
Reviewed By: Anne Holmes for the NABBW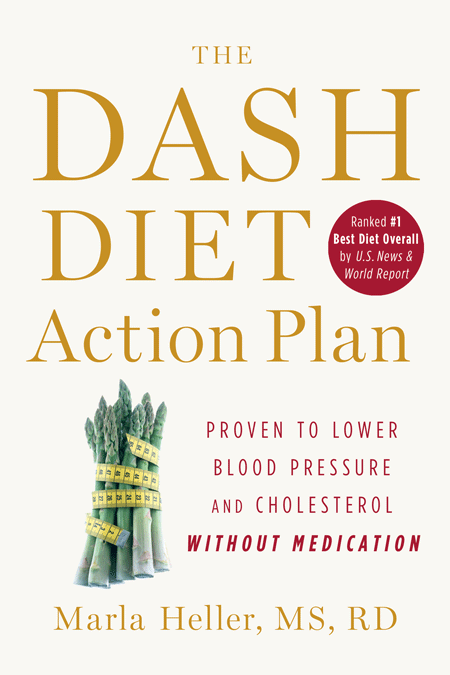 The DASH Diet Action Plan is a user-friendly teaching guide to the DASH diet. Which is a good thing, because in late 2011, an expert panel from US News & World Report panel chose the DASH diet as the healthiest diet. Earlier it was reported that the same panel selected the DASH diet was the best diet in the US?
Why did they choose DASH versus all the other plans? Because it has been proven in many, many research studies to improve health, while helping people lose weight. It helps to lower blood pressure and cholesterol; it has been shown to be associated with lower risk of certain types of cancer, heart disease, stroke, heart failure, kidney stones, diabetes, and osteoporosis. It is good for the whole family.
But a common challenge to following the DASH DIET, according to people who have adopted it, is in finding ways to incorporate the proper number of fruits and veggies. This book makes it simple to understand and put into practice.
Clearly author Heller\'s goal in writing the book is to make it easy to lose weight with the DASH diet, and she has not only included recipes and meal plans, but has provided realistic ways to add exercise.
Without this sort of help, Heller says, many people find the DASH diet to be hard to implement and sustain in a hectic lifestyle.
The DASH Diet Action Plan book is designed to help you with more than just "what" is involved with the DASH diet, it also shows you "how."
Specifically:
How to follow the DASH diet in restaurants
How to lose weight
How to make over your kitchen to make it easy to follow your plan
How to fit in exercise
How to reduce salt intake
How to add vegetables even if you "hate" vegetables
Better yet, the book helps you make your own personal plan with specific steps you will take to fit the DASH diet into your daily routine.
NOTE: The version of this book that I read is called The DASH DIET Action Plan: Proven to Lower Blood Pressure and Cholesterol Without Medication, but the book being sold on Amazon seems to have the title listed above. From what I can discern, they are the same book.