After the Wink and other stories
Author: Carolyn Steele Agosta
Website: http://carolynagosta.com/
Reviewed By: Anne Holmes for the NABBW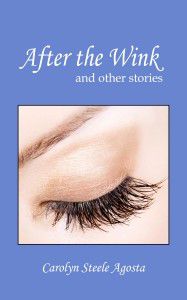 If you\'ve enjoyed Carolyn Steele Agosta\'s novels – Every Little Step She Takes and The Pleasure of Your Company — you\'ll want to be sure to check out this collection of 36 short stories and essays — and two poems.As with her novels, these stories are all about the importance of family and home.
This book offers up thirty eight stories whose main congruity is that they deal with personal relationships and their trajectories – which are seldom straight and clear. In here you\'ll find stories about relationships between men and women, parents and children, siblings, grandparents and grandchildren, humans and deities- and even the potential relationships that could take place between strangers or enemies.
The thing these stories have in common is that they all deal with the challenge of personal relationships – and the frustrations, challenges and disappointments of the people involved. Sadly, few are upbeat, happy stories. But they will cause you to think.
In After the Wink, a woman who feels she has lost sight of herself considers beginning an affair with a man who sees her for who she thinks she wants to be. Might like to be. Isn\'t sure she wants to be. Well, you\'ll have to read it to totally understand…
In Coming to My Senses, a woman regains her sense of smell only to realize that too many of her other senses have also been clamped down into a narrow existence.
The Last Time Dad Got Out of Jail looks at father/daughter relationships and the harsh injustices of justice. While in another father/daughter story, Flags Waving, the daughter learns to hold her head high, no matter how her father disappoints. And Nature\'s Way tells us about a father/son relationship that\'s so dysfunctional the son is afraid to invite his girlfriend home for dinner.
Meanwhile, two stories, A Stranger in a Lonely Place and Rest Area, I-40, that address how hard it can be to have a relationship with God. Especially when God drives an RV…
If you\'d like to read an excerpt, click here to enjoy After the Wink. For an autographed copy and free shipping, click here. You may also be interested to know that author Agostaalso offers special discounts for book clubs. For more information on that, please email Carolyn Agosta at caghereosta@charter.net.