Every Little Step She Takes
Author: Carolyn Steele Agosta
Reviewed by Anne Holmes for the NABBW
Warning: This is a "can't put down" story, so don't start reading it unless you have time in your schedule to finish it quickly.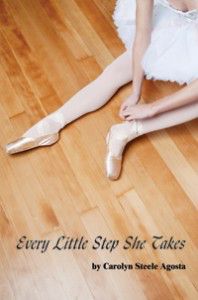 Every Little Step She Takes is the story of Amanda Long, an 18-year-old ballet student, whose family has been torn apart by their inability to handle the sudden and unexpected death of her brother. Her parents can't seem to talk about it – and she's feeling quite alienated, living away from home for the first time. In short, she has nothing she can count on, except her dancing.
As the story opens, she has just met Richard Gessler, her college\'s most famous alumnus, honored benefactor, patron of the arts and a high-profile businessman. She's awestruck, when he offers to taker her under his wing and become her mentor.
However, in a slow step-by-step dance of seduction, he draws Amanda deeper and deeper into a dangerous situation where she is totally under his control. Eventually he lures her to leave college and move to New York City, where their dark romance takes an ugly turn, resulting in attempted murder and a suicide.
Amanda is injured in the attack and ends up in the hospital. Once she recovers enough to leave, the media spotlight\'s glare drives her to run away from her home and family and start a new life for herself.
Years pass, and then, just when it looks as though Amanda and her family might reconcile, Richard steps in again. The question then becomes, will she be able to throw him out of her life forever and figure out how to stand on her own feet?
This "can't put down" story is at its essence, a novel about seduction, scandal and self-respect. You'll cringe as you see Amanda being drawn into Richard's web, wanting to shake her into realizing that what she thinks is love is totally wrong – and you'll find yourself hoping against hope that Amanda's family will pull itself together and reach out to Amanda before she reaches rock bottom.
Author Carolyn Agosta began writing in 1998 and has had over three dozen short stories and essays published in the US, UK, online, Italy, Latin America, Spain, and Viet Nam. She tells us that two have been made into short independent films and some have been translated into Arabic, Vietnamese, Spanish and Russian. Three have been dramatized for radio performances, including BBC Radio 4.
Several of her short stories have become popular among high school and college students in the \'oral interpretation\' division of Forensics (debate) competitions.  In fact, one of them, "Coming to My Senses," was turned into a sort film which is available on YouTube.
You can also read several of Carolyn's short stories online. Her website includes a link to the sites which have published her work.
Every Little Step She Takes is Carolyn Agosta's second novel, and her third is almost ready to go out to agents and publishers. When she's not writing, she teaches classes in fiction writing to beginning and intermediate writers.