Emerging Voices
Author: Laurel D. Rund
Reviewed by: Anne Holmes for the NABBW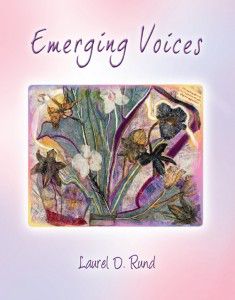 Emerging Voices is a compilation of Laurel D. Rund\'s original artwork and inspirational poetry that speaks to the many faces of loss and/or life transitions. Written after the death of her husband, Laurel says the book's purpose is to encourage the reader to record her own thoughts and feelings. Which is why the book includes a unique feature: blank journal pages after each selection.
There are 14 poem-artwork pairings here, which deal with some of the hardest moments in our lives, the loss of a loved one, whether in death or some sort of challenging separation.
As you read the book, you will not wallow in your Grief or be incapacitated by it. Instead, via the media of her words and art, she takes you on a journey that shows you how to grow through that grief and overcome the hurt with triumph.
Doubtless each of us experienced a major loss. We've been through a process of loss, as documented by Elizabeth Kubler-Ross. We know that we will pass through stages beginning with denial and anger, then passing on to bargaining, depression, acceptance. We will ask, "Why me?" and "Why now?"  Then once we process our grief, we are able to learn to live again.
You can almost hear Laurel's voice helping you through the stages as you read the poems in this book – (which therefore, should be read in order, from front to back.)
But just to add a fourth dimension to this review, here is a link in which you CAN hear her read her poem, "This Puzzle Called Life," whose words are printed below:
This Puzzle Called Life
Pieced together throughout the years,
the outside border of this puzzle called "life"
presents itself as my human form.
Like a comfy pair of shoes, it is easy to wear
and visible for all to see.
Ah, but the inside pieces are much more
complex ~ hidden from view.
They are a reflection of my spirit, of my soul!
I have finally come to understand that these
Puzzle pieces ought not be rigid or unyielding.
They should be sturdy, pliable and unrestrained
because life is about change and wisdom gained.
In the past, I was intimidated by puzzles,
put off by the frustration of not being able
To see how everything fits together.
Today as I move my life's puzzle pieces around
and new shapes take form, I am filled
with curiosity and confidence.
The colorful images are a kaleidoscope which
reveal my intent, my purpose and the gifts within me.
Laurel
Laurel Rund truly takes you on a journey to your heart in this book. Through her unique combination of words and art you will find your own unique thoughts and feelings begin to surface. And then  you will find your own unique voice emerging.
As Laurel says, "Listen to your music… Find your rhythm… Celebrate this dance called Life!" She urges you to find your own unique feelings, listen to your Emerging Voice, embrace your human spirit… And write, write, write!
So much more than an illustrated book of poetry, this is an invitation to a journey of self-discovery. You'll want to make time to read the whole book in one sitting. So block out some free time and grab your ticket now!
One last word: If you are as entranced with the beautiful illustrations as I was, you will be pleased to know that Laurel's images from the book are available for purchase on her website in the form of multi-media embellished greeting cards and prints. Additionally, four of the images are available in their original format. You can also contact Laurel about custom prints or custom greeting cards.