Conquer Prostate Cancer: How Medicine, Faith, Love and Sex Can Renew Your Life
Conquer Prostate Cancer: How Medicine, Faith, Love and Sex Can Renew Your Life
By Rabbi Ed Weinsberg with Dr. Robert Carey
http://www.ConquerProstateCancerNow.com, and  http://www.ConquerProstateCancer.com
Reviewed by Anne L. Holmes for the NABBW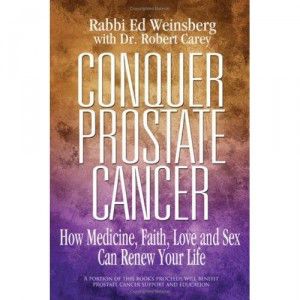 This book, an account of Rabbi Ed's — and his wife Yvonne\'s — experiences with Prostate Cancer and the options they chose for his treatment, is a powerful tool for surviving prostate cancer.
Rabbi Ed wrote the book not just as a prostate cancer survivor, but also as a Columbia-educated gerontologist and rabbi — though the book does not espouse any one religious outlook.
Its goal is to empower Boomer and senior men to face their diagnosis with dignity, explore their options realistically, and tackle their recovery with optimism.
The authors' mission in writing the book  is to empower patients to face their diagnosis with dignity, explore their options realistically, and tackle recovery with optimism and determination. But the book doesn't stop with providing helpful information for the patient: It is also an insightful resource for their wives or partners, family, friends, doctors, and other Healthcare providers.
As Rabbi Ed makes clear, prostate cancer affects thousands of men every year, but it isn\'t a death sentence. Early stage prostate cancer is unique in that the patient generally must decide upon the method of treatment. That's where this book becomes such a useful tool…
Chock full of low-key humor, positive and hopeful tone, and well-researched facts, "Conquer Prostate Cancer: How Medicine Faith, Love, and Sex Can Renew Your Life" is a guide for living with – and fighting — prostate cancer.  It does a great job of laying out treatment options and side effects.
Rabbi Ed's doctor, contributing author Dr. Robert Carey is a prominent urologist and robotic surgeon with a Ph.D. from MIT. Dr. David Kauder, the book's medical advisor, has been a urologist for the past 30 years and is a past president of the Massachusetts Association of Practicing Urologists.
Rabbi Ed and his wife Yvonne share the most intimate details of their prostate cancer journey, and coach the reader to:
Become an active member of the medical team
Reduce pain and stress and renew vitality
Overcome impotence and incontinence
Enhance intimate relationships
Draw strength from faith, family, and friends
The book emphasizes robotic surgery for prostate cancer from the perspective of an informed prostate cancer survivor and healthcare educator. It also discusses the latest research and advances in treatment, and profiles nineteen other patients who chose various treatment options.
Prominent robotic surgeon Dr. Robert Carey discusses medical and patient-care concerns while Yvonne provides a running commentary, sharing her thoughts about how she and her family coped with the disease and its effects.
A "must read" for anyone dealing with this disease.