Why Women Need Social Security
Why Women Need Social Security
By Pamela J. Sams, CRPC
NABBW's Retirement Planning for Women Expert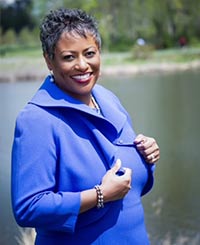 Did you know that the first person ever to receive ongoing Social Security benefits was a woman?
Ever since Ida May Fuller received the first retirement benefit check in 1940, women have been counting on Social Security to provide much-needed retirement income.
Social Security provides other important benefits too, including disability and survivor\'s benefits, that can help women of all ages and their family members.
Retirement benefits: a steady stream of lifetime income
While Social Security retirement benefits are important for everyone, they are especially important for women. Because women generally live longer and tend to have lower lifetime earnings than men, they may be more dependent on Social Security benefits in retirement.*
Fortunately, you can count on two features of Social Security to help you provide for a long retirement. First, benefits last as long as you live; although you may exhaust other sources of retirement income, it\'s impossible to outlive your Social Security retirement income.
Second, Social Security benefits are subject to automatic cost-of-living adjustments that increase benefits when prices increase, an especially valuable feature when you have to rely on a fixed income for many years.
When you work and pay Social Security taxes, you earn credits that enable you to qualify for Social Security benefits. You can earn up to 4 credits per year, depending on the amount of income that you earn, and you\'ll generally need 40 credits (10 years of work) to be insured for retirement benefits. Your monthly retirement benefit will be based on your lifetime earnings.
However, if you don\'t work outside the home or haven\'t worked long enough to qualify for Social Security based on your own record (or have much lower earnings than your spouse), you may still be eligible based on your spouse\'s record.
Disability benefits: help when you\'re ill or injured
During your working years, you may suffer a serious illness or injury that prevents you from earning a living, potentially putting yourself and your family at financial risk. But if you\'re insured under Social Security, you may be able to get disability benefits if you have worked long enough in recent years, your disability is expected to last at least a year or result in death, and you meet other requirements.
More women than ever are now insured for Social Security disability benefits. According to the Social Security Administration (SSA), in 1970, only 41% of women were insured; today, approximately 74% of women are insured.** In general, to be insured for disability benefits, you must have earned at least 20 work credits during the last 40 calendar quarters (10 years). If you qualify for benefits, certain family members (such as your dependent children) may also be able to collect benefits based on your work record.
Because eligibility requirements are strict, Social Security is not a substitute for other types of disability insurance, but it can provide basic income protection for working women and their family members.
Survivor\'s benefits: financial protection for your family
You probably know the value of having life insurance to protect your family, but did you know that Social Security offers valuable income protection as well? If you are insured under Social Security at your death, your surviving spouse (or ex-spouse), your children, or dependent parents may be eligible for benefits based on your earnings record.
You also have survivor protection if you\'re married and your insured spouse dies. If you\'re caring for a child who is younger than age 16 or disabled and who is entitled to benefits, you may be entitled to widow\'s benefits. You may also be entitled to benefits if you are age 60 or older (age 50 or older if you\'re disabled).
Three tips
1. Use the benefit calculators available on the Social Security website to estimate your future retirement, disability, and survivor\'s benefits. Social Security was never intended to cover all of your financial needs, but understanding what benefits you might be entitled to can help you plan for the future.
2. Consider the impact on your Social Security benefits if you plan on taking time out of the workforce. Having years of no or low earnings may mean lower benefits, and can also affect your eligibility for disability coverage.
3. Check your earnings history regularly, and report any name changes right away to the SSA so that your earnings are recorded properly. If your name doesn\'t match SSA records, any income tax refund can also be delayed.
If you have any questions about the Social Security program or the benefits you may be entitled to, visit www.socialsecurity.gov, or call (800) 772-1213.
Sources: *Fact Sheet: Social Security Is Important to Women, SSA Press Office; **Fast Facts & Figures About Social Security, 2011, SSA
Pamela has been helping women and their families improve their personal and financial wealth through good financial planning for the past 10 years. She is a Financial Advisor with Financial Planning Services of Northern Virginia and her office is located in Herndon, VA. She is an investment advisor representative and offers securities and advisory services through ING Financial Partners, Inc. Financial Planning Services is not a subsidiary of, nor controlled by, ING Financial Partners. Sources for this article: 1) Income of the Population 55 or Older, 2008, Social Security Administration, 2010. This material was written and prepared by Emerald. © 2012 Emerald Connect, Inc.