For Better, For Worse: Communicating About Retirement
For Better, For Worse: Communicating About Retirement
By Pamela J. Sams, CRPC
NABBW's Retirement Planning for Women Expert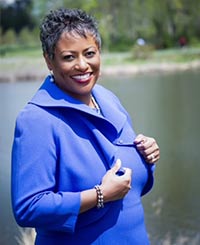 A recent survey suggests that many couples are not communicating clearly about retirement goals and strategies, even as they approach retirement age. The couples surveyed were at least 46 years old with a minimum annual household income of $75,000 or at least $100,000 in investable assets.1
Only 41% said they handle decisions on retirement savings and investments together, and 73% disagreed on whether they had a detailed strategy for retirement income. Many couples also disagreed on when they would retire and whether they would continue to work in retirement.2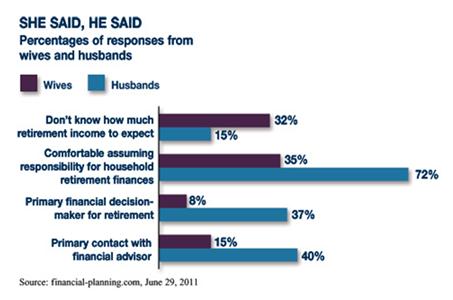 In general, wives expressed less confidence than husbands about handling retirement-related financial decisions (see chart). This trend is of special concern considering that women often have longer life expectancies than men and may eventually have to make financial decisions on their own.3
Talk It Over
Recognizing and working through these kinds of issues could help prevent unpleasant outcomes. Even if you and your spouse communicate well about retirement, it may be helpful to discuss these basic topics:
When each of you plans to retire. Where you would like to live. What kind of lifestyle you envision.
Whether either or both of you plan to continue with some type of work.
How much income you expect when you retire, your expected sources of income, and your confidence in the amounts they could provide.
How well you both understand your investments. Whether you both know where official documents are located and have all necessary account information.
Preparing for retirement can be a major challenge. Making sure you and your other half are in agreement and working toward common goals may help you avoid wasted effort and lost opportunities.
1-3 financial-planning.com, June 29, 2011
Pamela has been helping women and their families improve their personal and financial wealth through good financial planning for the past 10 years. She is a Financial Advisor with Financial Planning Services of Northern Virginia and her office is located in Herndon, VA. She is an investment advisor representative and offers securities and advisory services through ING Financial Partners, Inc. Financial Planning Services is not a subsidiary of, nor controlled by, ING Financial Partners. Sources for this article: 1) Income of the Population 55 or Older, 2008, Social Security Administration, 2010. This material was written and prepared by Emerald. © 2012 Emerald Connect, Inc.