For Better, For Worse: Communicating About Retirement
For Better, For Worse: Communicating About Retirement
By Pamela J. Sams, CRPC
NABBW's Retirement Planning for Women Expert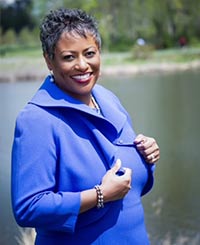 A recent survey suggests that many couples are not communicating clearly about retirement goals and strategies, even as they approach retirement age. The couples surveyed were at least 46 years old with a minimum annual household income of $75,000 or at least $100,000 in investable assets.1
Only 41% said they handle decisions on retirement savings and investments together, and 73% disagreed on whether they had a detailed strategy for retirement income. Many couples also disagreed on when they would retire and whether they would continue to work in retirement.2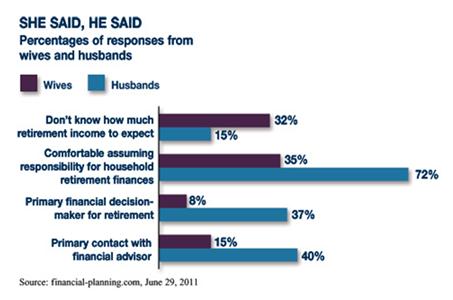 In general, wives expressed less confidence than husbands about handling retirement-related financial decisions (see chart). This trend is of special concern considering that women often have longer life expectancies than men and may eventually have to make financial decisions on their own.3
Talk It Over
Recognizing and working through these kinds of issues could help prevent unpleasant outcomes. Even if you and your spouse communicate well about retirement, it may be helpful to discuss these basic topics:
When each of you plans to retire. Where you would like to live. What kind of lifestyle you envision.
Whether either or both of you plan to continue with some type of work.
How much income you expect when you retire, your expected sources of income, and your confidence in the amounts they could provide.
How well you both understand your investments. Whether you both know where official documents are located and have all necessary account information.
Preparing for retirement can be a major challenge. Making sure you and your other half are in agreement and working toward common goals may help you avoid wasted effort and lost opportunities.
1-3 financial-planning.com, June 29, 2011
Pamela has been helping women and their families improve their personal and financial wealth through good financial planning for the past 10 years. She is a Financial Advisor with Financial Planning Services of Northern Virginia and her office is located in Herndon, VA. She is an investment advisor representative and offers securities and advisory services through ING Financial Partners, Inc. Financial Planning Services is not a subsidiary of, nor controlled by, ING Financial Partners. Sources for this article: 1) Income of the Population 55 or Older, 2008, Social Security Administration, 2010. This material was written and prepared by Emerald. © 2012 Emerald Connect, Inc.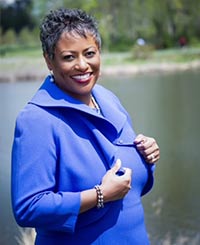 For over 20 years Pamela has been helping women improve their personal and financial wealth through solid financial life planning. Pamela's education and training enable her to help clients successfully navigate through the myriad of financial decisions they face during their lives. She focuses on helping her clients meet their financial needs and help them work to achieve financial security and greater retirement readiness.
Pamela has become a strong voice in the area of personal finance for women. Her knowledge in this area has made her a sought-after speaker. She has been quoted in articles in various financial publications.
Throughout her financial services career, she has acquired several client service and financial planning awards. She has membership in the Million Dollar Roundtable (MDRT). Membership in MDRT is a highly recognized mark of excellence and limited to only the most successful in the financial services profession. This places Pamela among the top professionals in the global life insurance and financial services industry. Pamela was featured in the Women in Wealth section of Fortune Magazine November 2020 issue as a top Wealth Manager in the Washington DC metro area.
She successfully completed the demanding requirements to receive a Chartered Retirement Planning Counselor certification through the College of Financial Planning. Pamela also holds a Behavioral Financial Advisor designation, awarded to advisors who have undergone training to learn to help clients make financial decisions using a rational, values-based approach. Behavioral Financial Advisor's integrate techniques founded in traditional finance, psychology and neuroscience to positively influence clients' spending and saving behavior in the presence of challenging emotions.
Pamela is married, lives in Chantilly, VA and has three children. She devotes her free time to her family, her church, enjoys reading and loves to sing.
Securities offered through Securities America, Inc., a Registered Broker/Dealer, Member FINRA (
SIPC
). Advisory services offered through Securities America Advisors, Inc., a SEC Registered Investment Advisory Firm, Pamela Sams, Investment Advisor Representative.