Luminous Italy: Florence, Hill Towns & Coasts
Travel in Italy is a life-changing, deeply enriching experience… especially "Great Trip" travel. It is almost a crime against life and nature to glide past Italy encased in a tourbus. The smells of lemon trees. The colors of ceramic tiles. The leather markets and shops. The music in the piazzas at night. The views from the bridge over the Arno, looking back at the glowing marble church perched high above Piazzo Michaelangelo. The artistically prepared fresh sea bass and pasta with pesto and lightly sautéed spinach. The dazzling views of the water looking down from the rocky hills to which the Cinque Terre villages cling. And the equally stunning views from the water looking up at hills and villages, where it is sometimes difficult to decide where rock stops and buildings begin.
If any Great Trip is going to change you, it will be your Great Trip to Italy. "One's destination is never a place but rather a new way of looking at things" says Henry Miller. And Italy is a destination that consummately inspires such new ways of seeing and living.
Prepare to be awed as you fly into Florence, take up lodging, and learn what is to become "your neighborhood" for the next six days— on the left bank of the Arno RIver, near the Ponte Vecchio. While staying in Florence, you will have time to devote one full day each to art, to cathedrals, to sculpture, and to science, balancing these days with markets and shops, eating in outdoor restaurants, relishing evenings of music on the squares, and, of course, gelato. As evening approaches, you will watch sunsets from the river level, standing on the Ponte Vecchio, or from higher up—one evening from Piazzale Michelangelo, and another while dining magnificently in Fiesole, a small town perched on a hill overlooking Florence.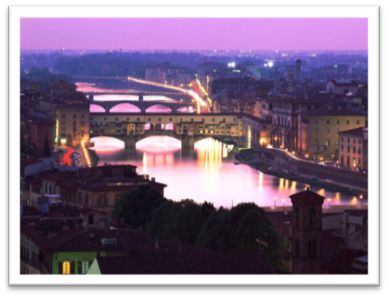 From Florence, you will venture out on day trips by train, first to ancient Cortona, the hilltown featured in "Under the Tuscan Sun," dating back to the Etruscans, and then to San Gimignano, a captivating walled medieval hilltown in Tuscany, also with Etruscan roots, with its defensive towers still intact— offering the charms of villages that seem untouched by time.
Next you will move on to Monterosso al Mare in Cinque Terre ("Five Lands"), one of the five tiny towns clinging to the rocks above the Ligurian Sea. These towns, once accessible only by boat or by mule, are now also accessible via a small train that interconnects them; two of them are also connected by a "lover's walk," where the young men and women of the two towns are able, at long last, to meet each other and fall in love—Viva amore! You will stay in charming lodgings, either high up or down near the sea, and travel about by boat or train to the other four towns and to Porto Venere, huddled in a protective harbor a bit further away. While in Cinque Terre, you will delight in eating copious quantities of fresh seafood, accompanied by the excellent local wine.
From the Cinque Terre coast, you will travel by train along the western edge of "the boot" to Naples, and from there by private driver across to and along the Amalfi coast to Positano, known as "the vertical city"— filled with flowers and lemon trees, and populated by life loving, warmhearted Italians.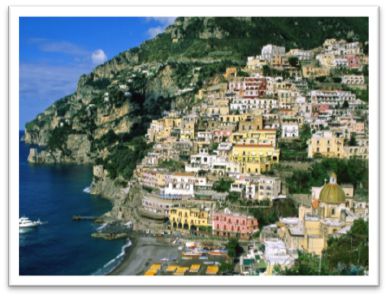 Then on to Sorrento, where you will stay at an elegant hotel, perched up so high on the rock-face that there is an elevator from the nearby park to carry you the 15 stories down to the harbor. Walking out from your hotel and along the wall atop the rock's edge, you will have astounding views across the Bay of Naples to Vesuvius and the Isle of Capri. And you will find yourself in the midst of the pedestrian streets, shops, restaurants and theaters of old town, with local artisans offering current versions of family crafts passed down, generation to generation, for centuries. Delicately-carved cameos… Exquisite inlaid tables and boxes… Vividly colored ceramic tiles…
From Sorrento you will take a day trip by ferry to Capri, and another to Herculaneum… a former Roman resort town… an amazingly well preserved "Beverly Hills" of luxuriant villas. These villas were the pride of the rich and famous 1900 years ago. But then in 79 AD, they were buried under 75 feet of boiling volcanic mud, flowing at 60 miles per hour from the same 19-hour Vesuvius eruption that entombed ancient Pompeii and its populace in volcanic ash.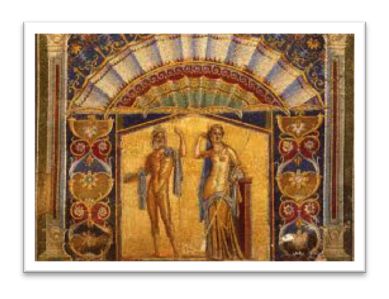 Italy is more than a place to go visit. It is a flame that reignites within you and gives new scope and meaning to your life. Perhaps in all of us there is a passion for beauty and genius – for deep connections with people – for celebration of the bounty and magnificence of good food brilliantly prepared, and good wine to accompany it. But it is in Italy that these inner gifts for life reemerge. Italy comes home with you, and you are forever the better for it.