Incomparable Capitals: London, Paris & Amsterdam
Incomparable Capitals: London, Paris & Amsterdam
By Carolee Duckworth NABBW\'s  Independent Travel Associate
On this trip, you will divide your time among three of the most extraordinary cities in the world, each entirely distinct from the other. In London you will stay in a flat or hotel near Covent Garden, and take in two (or, better yet, three) theater performances, with at least one of them performed at the rebuilt Globe Theater that harkens back to Shakespeare's days. You will find the river, in this case the River Thames. As you travel the Thames, tracing the journey made by the condemned in times past, floating their way from the Tower to their place of execution, history will come to life around you and make a new kind of sense. On a day trip further along the river, you will travel to Greenwich to visit the phenomenal Maritime Museum.
While you sit in St. Paul's Cathedral, and then in Westminster, you will soak in the ambiance and silence, joining in spirit the centuries of others who once sat where you sit now. You will visit the National Gallery, the Tate, the Victoria and Albert, and the British Museum, flush with art, antiquities and treasures – both those that were created by the British, and those that were "taken" as a perceived entitlement of Empire. And there will be the option of going to Market Day in Notting Hill.
From London you will be whisked away by Eurostar, under the English Channel and on to Paris, in just over two hours— a remarkably short trip in terms of time and distance, but a vast journey in terms of cultural differences. In Paris, you will locate your home for the next five days, on the left bank of the River Seine, then learn your new "neighborhood." Next you will find the river, and make your way along it by Bateaubus ("Boat Bus")—the scenic transport of choice for visiting much of what you will be seeing while you are here— with the rest easily accessible by speeding along underground on the Metro.
With Paris now yours for the experiencing, you will immerse yourself for five full days in this captivating and entirely unique city, walking back and forth across the bridges and along the river and traversing the islands. You will take the time you need for the Louvre, where you will view artwork that in earlier times would never have been within your reach, since it was once part of the Royal collection and for their sole enjoyment.
You will sit outside, then inside the unmatchable Notre Dame, with its ethereal architecture and grace, and wander the warren of streets in the Marais, visiting used clothing stores with tables piled high with Paris Fashion, lightly used, then tossed aside, and ready for you to discover. And then, of course, you will move on to d'Orsay, to see the Impressionist paintings, and to the Arc de Triomphe and the Champs d'Elysees, reflecting the pride and vanity of Napoleon. You will stand under the Eiffel Tower and perhaps ride the elevator to the top. And so you will take in some of Paris , but certainly not all of it, "this time" — and will vow to return, perhaps many times.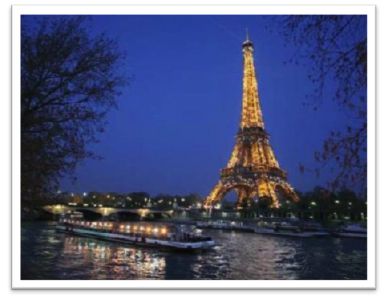 Last, you will take yourself to Amsterdam, again by train and in a matter of hours, where you will be able to relax and speak English again, because the affable Dutch would never expect any foreign visitor to be able to speak their own indecipherable language. Marvels and options will abound, with transportation readily available by canal boat or tram within the city, and by bicycle or train for traveling out into the countryside and to the charming smaller towns nearby.
Again you will experience the enjoyments of outdoor wining and dining— and the enthrallment of people watching. There will be plentiful time for the van Gogh Museum, that houses the collection of van Gogh's work that belonged to his brother, Theo. And for the Rijkmuseum, displaying Rembrandt's "Night Watch," and a wealth of other masterpieces. There will be Markets too. And Anne Frank's house. And the Concertgebouw, offering classical music performances that are among the best in the world. You will develop an all-new appreciation of tulips, cheese and Delft tiles.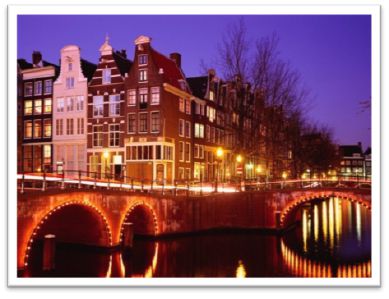 By the time you leave Amsterdam for home, you will be hard-pressed to decide which of these three capitals is your favorite. In all likelihood you will discover that you want to come back to each of them—perhaps many times.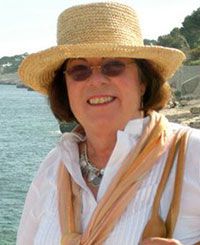 Carolee Duckworth is an avid traveler, an experienced trip designer, and co-author (with Brian Lane) of the books Your Great Trip to France, Your Great 5-Day Trip to Paris, and Your Great 5-Day Trip to the Loire Chateaux, available on amazon.com. Your Great Trip to Italy is coming soon. Ignite your passion for travel, while preserving your independence, with a Great Trip Guide by your side. Visit
YourGreatTrip.com
for a free copy of our definitive guide to packing: "How to Pack Like a Pro," and to receive periodic emails with new trip itineraries and travel tips.