Cincinnati Chili Makes a "Super" Winter Supper
Cincinnati Chili Makes a "Super" Winter Supper
By Pat Sinclair
NABBW's Cooking for Two Expert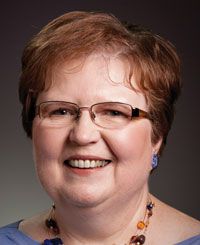 Outside of the state of Texas, Cincinnati, Ohio is the most chili-crazed city in the United States. In fact, the community prides itself on being a true chili capital, boasting more than 180 chili parlors, proudly serving "Cincy Chili."
In recent years, Cincinnati-style chili has developed a cult-like popularity. If you\'re not familiar with it, the first thing you need to know is that it is very different from its more familiar Texas cousin. The people of Cincinnati enjoy their chili spooned over freshly made pasta and topped with a combination of chopped onions, shredded Cheddar cheese, refried beans or kidney beans, and crushed oyster crackers.
The main differences between Texas and Cincy chili come in the way the meat is seasoned – and the way the dish is served: Cincy chili has a thinner consistency and boasts an unusual blend of spices that includes cinnamon, chocolate or cocoa, allspice, and Worcestershire. And, it\'s generally served over spaghetti!
Midwest foodies tell us that Macedonian immigrant Tom Kiradjieff created Cincinnati chili in 1922. There. he and his brother John owned a small Greek restaurant, the Empress. The restaurant really did not distinguish itself until Kiradjieff started offering a chili he concocted with distinctive Middle East seasonings, which he served five ways. He called this dish "spaghetti chili."
Kiradjieff\'s "five way" chili offering featured a mound of spaghetti topped with chili, chopped onion, kidney beans, and shredded yellow cheese, served with oyster crackers and a side order of hot dogs topped with more shredded cheese.
Today, if you visit a Cincy chili parlor and ask for "the works," you are eating Five-Way Chili. Make sure to pile on the toppings – that\'s what sets it apart from any other chili dish.
Cincinnati chili lovers order their chili by number. Two-, Three-, Four-, or Five-Way. When you serve it at home, you\'ll want to let your guests create their own final product. If they ask, be prepared to explain the "official" differences:
Two-Way Chili: Chili meat sauce served on spaghetti
Three-Way Chili: The same, but additionally topped with shredded Cheddar cheese
Four-Way Chili: Three-way with a topping of chopped onions
Five-Way Chili: "The works" includes a final topping of kidney beans
Wherever you live, chili is the perfect winter supper and an easy way to feed a crowd or just two. Whether your guests decide on eating their chili 2-way, 3-way, 4-way or 5-way you\'ll be offering them a hearty meal.
No matter which version they choose, oyster crackers are the traditional accompaniment to this hearty meal. You won\'t need to add the Kiradjieff\'s traditional side of hot dogs to assure that none of your guests go hungry!
Cincy Chili
Serves 6 to 8
2 pounds lean ground beef
1 cup chopped onion
1 teaspoon minced garlic
2 cans (14.5 ounce) stewed tomatoes
1 can (15 ounce) tomato sauce
1 cup beef broth
1 tablespoon Worcestershire sauce
1 tablespoon cider vinegar
1 to 2 tablespoons chili powder
1 teaspoon ground allspice
1 teaspoon cinnamon
½ teaspoon ground cumin
½ teaspoon red (cayenne) pepper
1 tablespoon unsweetened cocoa powder
1 teaspoon coarse salt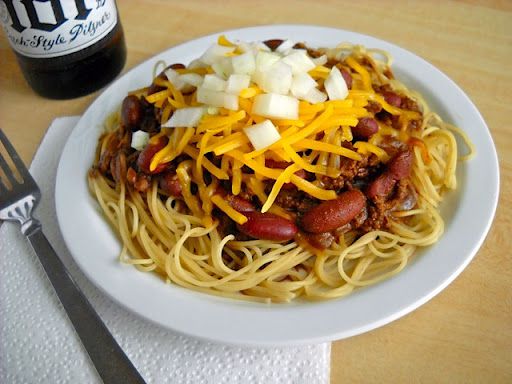 Brown ground beef, onions and garlic in 5-quart Dutch oven. Stir occasionally to help browning. Pour off any fat. Add stewed tomatoes, tomato sauce and broth, Worcestershire sauce and vinegar.
Combine remaining spices in a small bowl. Stir into beef mixture. Heat chili to a boil over medium high heat. Reduce heat to low; simmer 30 minutes, stirring occasionally. Chili can be prepared ahead and refrigerated until serving.
Reheat chili if needed.
To serve Cincinnati style, serve with spaghetti, and the toppings choice: Be sure to offer lots of cheddar cheese, since traditional Cincy chili is served with enough cheese on top to hide everything else!
SIDEBAR: For four servings of 5-way chili you will need the following accompaniments:
12 ounces spaghetti, cooked, drained and kept warm
1 (16 ounce) can kidney beans, rinsed and drained
1/2 to 1 cup chopped onion
2 to 4 cups shredded Cheddar cheese
Oyster crackers
Note: When I make 2 servings, I freeze the remaining chili for another two meals. Reduce the toppings if you are only preparing for two.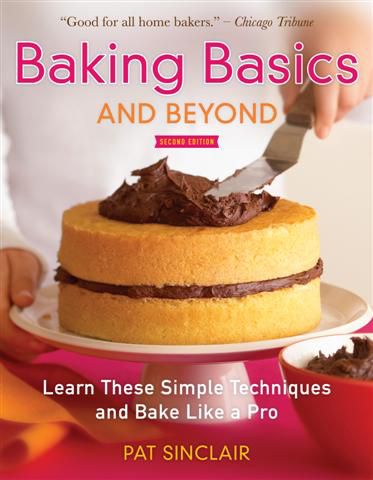 Pat Sinclair is the author of Baking Basics and Beyond (Surrey books, 2006) which won the Cordon d'Or- Gold Ribbon Award from the Culinary Arts Academy.
Scandinavian Classic Baking, her new cookbook, will be published by Pelican Publishing in 2011. She lives in Minneapolis where she also teaches cooking classes. Pat invites you to contact her at www.PatCooksandBakes.com or via her blog.
Copyright 2011 By Pat Sinclair.