Let It Go, Let It Go, Let It Go
Let It Go, Let It Go, Let It Go
By Leigh Anne Jasheway
NABBW Boomer Humor Expert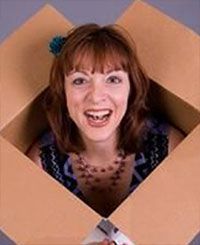 Of all the fairy tales women have grow up with, perhaps the Norman Rockwell/Martha Stewart holiday story causes us the most stress. No matter how hard we work to shop, bake, decorate, and mediate (or is that medicate?), there is no way our family and friends can ever measure up to the myth. If only we could wave a magic wand and let go of some of our unreasonable expectations.
A wand I don't have, but I do have some tips for lightening up with laughter and making the holidays more jolly and less stressful:
Lower your expectations.
Striving for holiday perfection can take the fun out of everything, so accept your shortcomings and use them for a chuckle.
If your attempt at holiday home decorating looks like the aftermath of a hurricane, tell everyone your house has been chosen for a new reality show called Disastrous Decorating Divas.
Instead of trying to hide you wrapping fiascos, challenge everyone in the family to see who can wrap a gift the worst.
And stop trying to ignore the fact that your gingerbread men never turn out right; tell your friends or co-workers you're performing a psychological test and what they see when they look at the cookies give you a clue about their personalities.
Add ho-ho-ho to your shopping list.
Funny gift ideas help you share the gift of laughter and provide some extra merriment while you shop.
Think rubber boots with ducks on them for your best friend the gardener, a bottle of Mr. Bubble for your father-in-law, a Blu-Ray disc of your spouse's favorite comedian, and a funny book for your daughter who loves to read (there are still some of those out there, aren't there?)
We could all use a few more giggles at the mall (and not just when our credit card bursts into flames).
Take one chortle an hour and don't call the doctor in the morning.
The average American adult laughs about fifteen times a day. The average is probably not that high during the holidays; so make sure you get your RDA of snickers (no, not the candy bar) by laughing out loud at least once an hour.
Hike up your bra strap and get some support.
At least once or twice this season invite your jolliest friends out to lunch or dinner. See who can tell the silliest story about the holidays.
The extra cheer will not only reduce your stress and improve your health during this hectic season, it will also help you get a better perspective on everything.
Wrap yourself up for fun.
Instead of buying gifts for everyone, create gift certificates for hilarious services such as:
1 free cat bath
A manicure in your choice of yellow, blue, or orange
1 car wash (valid only on rainy days)
A puppet show of your favorite action adventure film on a day when you're feeling blue…
Not only will you have fun creating ideas for each person on your list, but no one will be able to say, "Oh, it's too bad I already have one!"
Ask the Crazy 8 Ball.
Sometimes the holidays bring up old family arguments that never seem to get resolved:  whose house to eat a special meal at, when to open presents, how to use this year's fruitcake – as a doorstop or a paperweight.
Instead of letting the tension build, plan some humorous ways to negotiate – from asking the Crazy 8 Ball to Rock/Paper/Scissors, to having a funniest joke contest.
Create a humor first aid kit.
In case of emergency, whether it's a burnt Tofurkey offering or just the usual holiday blues, it's best to have a plan.
Take a colorful box with a lid or an old cookie tin and fill it with things that will help you laugh when the chips are down – bubbles, kazoos, jingle dog-collars, reindeer antlers, holiday punch balls, etc.
When all else fails, make snow angels.
There's just something about lying on your back in the snow flapping your arms that brings a smile to almost everyone.
Except my wiener dogs. Their arms are too short.
Leigh Anne Jasheway, M.P.H. is a Stress Management and humor expert who helps women and men manage stress, embrace change, and become healthier by learning to lighten up. She speaks at 50-60 conferences and workshops every year and has been a national Speaking of Women's Health and Healthy Woman keynoter. She's a member of the Association for Applied and Therapeutic Humor (AATH). Learn more about her at her website, Accidental Comic.com.