Our Late Fall Armchair Trip: Pueblos and Balloons of New Mexico: Santa Fe & Albuquerque
By Carolee Duckworth, NABBW's Independent Travel Associate
| | |
| --- | --- |
| | OUR LATE FALL ARMCHAIR TRIP: PUEBLOS AND BALLOONS OF NEW MEXICO: SANTA FE & ALBUQUERQUE |
Let's imagine setting off for our next Armchair Trip in early October. This time we'll be mentally travelling to New Mexico, starting with Santa Fe for two days. In Santa Fe we'll wander through the charming Old Town, relax over drinks on an upstairs balcony overlooking the Plaza and venture up into the hills to gape at otherworldly rock formations and cliff-dweller remains, and stop to admire the work of award-winning weavers.
While we're in Santa Fe, we will feast on local food, prepared by surprisingly sophisticated and versatile chefs, and be surrounded by phenomenal art, including a full museum dedicated to Georgia O'Keefe. And there will be no shortage of lovely turquoise and silver jewelry, hand-crafted by descendants of the Native Americans who lived here in this spot long before the Spaniards and then the Anglos arrived.
Next, we'll drive back to Albuquerque for five days. Here we'll experience the vibrant cultural mix—Anglo, Spanish and tribal Pueblo, Navajo, and Apache— of this relaxed and welcoming high desert city "with a small-town attitude." While here, we will immerse ourselves fully in the celebrated Balloon Fiesta, watching hundreds of balloons take to the sky by day and glow radiantly after dark.
Throughout our trip, we will be surrounded by rugged desert landscapes, unusual rock formations, brilliant sunsets and gently sloped mountains. And by the many artists and craftsmen who have flocked to this area to paint and sculpt and weave and photograph all of this natural beauty.
These hills and deserts have drawn a distinctive collection of communities and cultures for dozens of centuries. Stable native agricultural communities established themselves and lived out their lives here beginning in 3000 BC. Then came the ancestral Pueblo tribes in the 700s AD, followed by the Catholic Spaniards in the mid-1500s, and finally the Anglos in the 1800s with the opening of the Santa Fe Trail. Many descendants of these earlier arrivals still live in their ancestral adobe homes and villages or in remote Spanish communities, tucked away in the hills.
Our trip here to this unique area will be a feast for our eyes as well as our appetites, and an intriguing journey of discovery and new experiences.
DAY 1: TUESDAY…DRIVE TO SANTA FE & RELAX ON THE PLAZA
We'll fly to Albuquerque on the first Tuesday in October and rent a car for the 1¼-hour drive North to Santa Fe. We will have booked our accommodations here well in advance, given the extraordinary influx of travelers who head this way for the Balloon Fiesta.
We'll stay at Hotel Chimayo, just half a block from the Plaza in Old Town. This will put us just where we want to be, within a short walk to the Plaza with all its shops, restaurants, and liveliness.
DINNER OVERLOOKING THE PLAZA
We'll be arriving in Santa Fe and checking in at around 4:30 pm. After a day spent racing through airports and lunching on airline pretzels, we'll be starving. So, our initial goal will be to head out in search of food.
For our welcome meal, we'll pick the Thunderbird Bar & Grill (50 Lincoln Ave; 11:30 am to 9 pm), a French bistro just a 5-minute walk from our hotel, with outdoor tables perched up on an inviting upstairs balcony.
We'll have a wide selection of food here, but the theme will be mid-western. Maybe we'll order a round of nachos for the table to take the edge off our appetites, and follow up by sharing an order of Southwestern Fajitas (beef, chicken or shrimp).
We'll take our time over dinner, watching the flow of people and activity on the streets below and across the street in the Plaza park. After dinner, we'll meander around the square, and across the Plaza, to browse in shop windows and spot the places we'll want to return to tomorrow when they are open.
DAY 2: WEDNESDAY: TREK INTO THE HILLS, GEORGIA O'KEEFE & TURQUOISE
On Wednesday we'll pick up complimentary coffee and granola bars in our hotel lobby, then wait outside to meet up with our Great SW Adventures (swadventures.com) driver for a half-day trip we booked in advance to take us north out of town to Chimayo. This road trip will provide us a fascinating introduction to the area, a taste of the Spanish and Pueblo cultures of New Mexico, and an introduction to the amazing landscapes north of Santa Fe.
We'll visit the Spanish village of Chimayo, with its legendary church, local arts, and beautiful setting. From a high cliff we'll overlook breathtaking views, with the mighty Rio Grande snaking its way across the valley until it disappears into the distance. We'll see the remains of rooms dug into the cliffs by the early cliff dwellers, forming back rooms in the multi-storied structures out front. And we'll stop to visit local weavers, admiring their stunning work featuring these glorious hills and sunsets, and perhaps purchasing a sample to carry home.
We'll have the opportunity to ask our many questions and have them answered. Cultural. Historical. Geological. How did the cliff dwellers get up to these holes in the face of the rock? Why did the cliff dwellers leave and where did they go? Why are the tops of these rock formations still intact, with only the substance below the surface showing signs of erosion? Why did Spaniards settle here along this river? Why and how have so many generations of Spaniards remained here in such remote seclusion?
BACK TO SANTA FE: LUNCH AT Anasazi Restaurant
When we arrive back at our Santa Fe hotel, we'll walk next door to relax over a luxurious lunch at Anasazi Restaurant (113 Washington Avenue). If we choose a table inside, there will be classical music playing, striking artwork and elegant decor.
Outside, red umbrellas will shade us from the sun. And everywhere there will be genteel service, friendly wait staff, and a feeling of welcome, comfort, calm. And, yes, a bit of pampering.
Perhaps we'll start with a glass of rosé. Then maybe Red Snapper Tacos(with Lemon Aioli) or Southwestern Shrimp Fajitas. And maybe a salad with a side of fresh avocado. We will have much to discuss over lunch from our morning's discoveries.
Georgia O'Keefe Museum
We will have purchased advance tickets to the small but fascinating Georgia O'Keefe Museum (217 Johnson St, Wednesday to Monday, 10 am to 5 pm. Closed Tuesday) rather than risk being turned away. We do not want to miss out on making a visit here, both for the art and for the story.
Georgia O'Keefe made her mark in New York City but was deeply inspired by New Mexico's natural beauty when she traveled through here in 1917 on her way from Texas to vacation in Colorado. She instantly felt that this was "her country." She couldn't quite put her finger on what drew her so intensely to this land. But she thought maybe it was because here "the sky, the stars and the wind were different."
In the mid-1930s, she began roaming areas south of Taos, inspired by the brightly colored red and yellow hills, the jagged white cliffs, the pale greens of the cedar trees, and the bleached desert bones. These natural elements became favored subjects in her work throughout the 1940s. In 1949 she made New Mexico her permanent home. When she passed away in Santa Fe in 1986, at age 98, her ashes were scattered in the wind at the top of Pedernal Mountain, a peak she had often featured in her paintings.
We'll take our time here in this museum, absorbing both the art and the life story. To make the most of our visit, we'll each select our favorite three works and share them with each other before we leave.
SOME FREE TIME Around the plaza
At this point, we'll be ready for some liberty to roam at our own pace. We'll take our own good time browsing hand-crafted native jewelry around the Plaza, displayed and sold by the artists themselves
under the shaded adobe facade of the Palace of the Governors. This is where the Native American Vendors Program has operated for over 60 years, based on a daily lottery to ensure that a rotating selection of artisans from the various pueblos have a chance to showcase and sell their creations.
A bit of haggling here is acceptable but we'll be respectful. These are not cheap trinkets made in a sweatshop abroad. The crafts and jewelry here have usually been made by the person with whom we'll be conversing. If something catches our eye, we'll ask about it. The best "treasures" to bring home from a trip are ones that will make us remember our travels every time we wear them.
An awesome dinner at La Casa Sena
This will be our final night in Santa Fe. So, we will have made reservations for 7 pm at a really special place… La Casa Sena. Tucked away in a historic building on the Plaza, with an enchanting garden courtyard, La Casa Sena (125 E. Palace Avenue; Closed Tuesday) is a hidden gem. If the evening is chilly, we'll request a table inside, near the fireplace. Otherwise, we'll dine outside on the spectacular patio.
The selections here feature Mediterranean cuisine and are fairly pricey. So, we'll do some "creative sharing," ordering one small plate and one large plate to be served at the same time, then swapping plates midway. Maybe a large plate with Pan-Seared Trout. And a small plate "Seafood Tower, with blue point oysters, cold water lobster tails, black mussels, clam, octopus, crab lump, ahi tuna, trout roe, shrimp, wasabi mignonette, yuzu ponzu-sriracha mayo and lemon."
The wine list here is exceptional, but expensive by the glass. But there are some excellent reasonably priced options by the bottle. So, we'll share a bottle and plan to take some home if we don't finish it. We may decide to share a dessert to top off this memorable meal.
DAY 3: THURSDAY…TO ALBUQUERQUE & THE TRAMWAY UP SANDIA PEAK
This morning we'll breakfast on the Plaza in the flower-bedecked outdoor patio at the historic Plaza Café. This is Santa Fe's oldest restaurant, serving authentic traditional dishes since 1905, run by the Razatos family since 1947—Dionysus (Dan) Razatos, a Greek immigrant, his local wife, Beneranda Maria Montoya Saiz and their six children.
The Razatos family has stayed with traditional New Mexico cooking methods and flavor combinations but added some classic recipes from Greece. And the surroundings are cheering, even on a rainy morning.
Drive to Albuquerque, Staying at lovely Hotel Andaluz
After breakfast, we'll head to Albuquerque, New Mexico's largest city, sitting in the high desert, nestled in the Rio Grande Valley at the foot of the Sandia Mountains. We'll spot the turn off to Sandia Peak Tramway as we drive I25 towards Albuquerque. We'll be heading back here later today.
Our hotel, Hotel Andaluz, will be a delightful discovery—an historic, dramatic, beautifully restored, and perfectly located hotel in the city's downtown, and a 5-minute drive from Old Town. We will quickly settle into this place, with its welcoming restaurant, Tapas & Vinos, and its rooftop bar, Ibiza's.
As we pull up to the hotel, we will be welcomed by the charmingly helpful valet parking staff and will happily turn over our car to relax for a while in the lovely hotel lobby, in our choice of "living room" seating areas.
We'll drop by Tapas & Vinos for snacks and drinks, or munch on leftover snack bars and fruit we picked up this morning from our Santa Fe hotel. But we won't want to eat too much and spoil our appetites for the 5 pm sunset dinner we'll be enjoying at the remarkable TEN3 restaurant after our tram ride to the top of Sandia Peak.
If our room isn't ready yet, we'll just leave our luggage here for now, and make it clear that we'll be back to check in after dinner. But now we'll know our hotel and how to get back to it after dark.
Dinner & Sunset at 10,000+ Feet
After driving back North to the turn-off we passed on our way here from Santa Fe earlier today, we'll use our prebooked tickets and board the tramway (available for same day purchase only in order that weather conditions can be taken into account). Hopefully we'll find a place near the windows as we are transported 2.7 miles, dangling above deep canyons and breathtaking terrain, to the observation deck at the peak…10,378 feet up, with a panoramic view of the Rio Grande Valley.
When we reach the top, we'll take our time, immersing ourselves in views of the Sangre de Cristo Mountains, lingering a bit to watch the sun and shadows play across the boulders as the cityscape begins to twinkle below. Our 5 pm dinner reservations at TEN3 will overlap with sunset, when the desert skies will turn into spectacular swatches of peach, gold, violet and pink! If we end up with extra time before dinner, we'll check out the gift shop, then find a seat at the Lounge at the Bar (first come, first served) for a drink (open 11 am until 7 pm).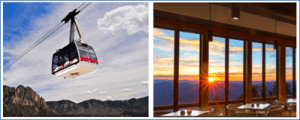 Dinner up here will be (understandably) pricey, but worth it. So, again, we'll practice "creative sharing" so we can have the full experience without breaking the bank. Maybe one of us will order an entrée splurge of the Grilled Ribeye and the other a Fall Salad (micro greens, roasted black mission fig, bosc pear, Manchego cheese, organic golden & red beets, and toasted pecans, with maple sherry vinaigrette). And we'll accompany this feast with sides of Asparagus Risotto (or Roasted Forest Mushrooms) and Black Truffled Yukon Gold Mashed Potatoes.
DAY 4: FRIDAY…BALLOONFEST SPECIAL SHAPE RODEO & MASS ASCENT
This morning we'll be up before dawn, excited that today (hopefully) we'll get to see the spectacle we have traveled so far across the country to experience—the launch of hundreds of balloons into the desert sky. We will be giving ourselves three chances to see the balloons in all their glory… this morning, Saturday evening and Sunday morning.
Weather conditions—rain or wind—can cause cancellations, so we're hedging our bets here. We will have purchased tickets well in advance at the Chasers' Club, a dedicated viewing area at the side of the field where we will have access to a catered breakfast, tables and chairs, and restrooms. We'll be using the "Chasers' Club" ($60 each) today and Sunday. Saturday evening, we will spring for the fancier "Gondola Club" ($120 each).
We'll need to arrive at Fiesta Park before dawn, around 5:30 am or soon after. To avoid the ordeal of parking at such a huge and heavily attended venue, we'll use the Park & Ride service, allowing us to leave our car at Coronado Mall and hop on a shuttle bus that will deliver us straight to the field.
Our Chasers' Club wristband will give us the use of this reserved field-side area from 5:30 am until 10
am. Food service will end at 9 am, one hour prior to closing. So, we'll plan our time accordingly.
The starting balloon event will be Dawn Patrol, beginning at 6 am. This will be both a choreographed balloon display and also an opportunity for the pilots to assess the day's winds. Today Dawn Patrol will be followed by the Special Shape Rodeo, with whimsical character balloons inflating, then floating up to fill the sky.
In and around catching breakfast at Chaser's Club's extensive buffet (including a New Mexican option as well as biscuits & gravy, scrambled eggs, bacon, sausage, and potatoes), and watching all the hubbub out on the field as the balloons are inflated and launched, we'll take some time to check out the interesting shops along "Main Street." We'll be sure to look for the shop with the giant stuffed alpacas out front, where we can select an impossibly soft, vibrantly colored Alpaca sweater (or two) for a fraction of what we would pay in a store, and possibly putting it on immediately if the morning is chilly.
By 9 am we'll be ready to hop back on the Park & Ride bus and return to where our car is parked.
Now Off to Explore Albuquerque & Old Town
And now the rest of the day is ours to explore Albuquerque. So, we'll head to Old Town for a Trolley ride, lunch, and some time to walk around Old Town and explore a few shops. We'll drive straight to Hotel Albuquerque, Old Town(800 Rio Grande Blvd NW), where the open-air ABQ Trolley Company City Tour boards.
We can park our car here in the hotel parking lot while we ride the Trolley, and leave it here afterwards while we walk to Little Anita's for lunch, then across the street into Old Town.
We already will have purchased our tickets for the 10 am trolley tour, so all we'll need to do is find the pick-up point outside the front entrance to the hotel, show our tickets and hop aboard. The tour is a delightful, fully-narrated, 100-minute guided tour around the city, including film locations of major
motion pictures and television programs (Breaking Bad, Better Call Saul), a beach in the desert, and a castle. We'll see the Old Town Plaza (where we will be returning after lunch), The Indian Pueblo Cultural Center and Museum Row. And we'll "Get our kicks on Route 66."
After our tour, we'll leave our car in the Hotel Albuquerque, Old Town parking lot and walk over to Little Anita's for an excellent and reasonably priced lunch. And from there we'll cross the street into Old Town to wander in and out of shops that look interesting and stroll through Old Town Plaza, the heart and center of town since Albequerque was settled in the early 1700s.
DAY 5: SATURDAY…PUEBLO CULTURE & NIGHT MAGIC GLOW
Today our visit to Balloon Fiesta will be for the evening session. So, we'll have the day free for other activities. We'll start at the Indian Pueblo Cultural Center that traces the tribal history of the 19 Pueblos of New Mexico: Acoma, Cochiti, Isleta, Jemez, Santo Domingo, Laguna, Nambe, Ohkay Owingeh, Picuris, Pojoaque, Sandia, San Felipe, San Ildefonso, Santa Ana, Santa Clara, Taos, Tesuque, Zia and Zuni. We may be visiting the center during a Cultural Dance Show (Saturdays & Sundays; 11 am and 2 pm). And the Art Store will be open (Open Tuesday— Sunday, 9 am to 4 pm).
Evening session at fiesta park… Special Shapes "Glowdeo"
And now, back to Balloon Fiesta Park for an evening session, when the balloons are inflated and lit up, but not launched. This evening we have splurged on wristbands for the Gondola Club ($125 each). So, we'll be able to drive our car straight to VIP parking, up near the field, with shuttle service to drop us off at the reserved Gondola Club area. Here drinks (up to 3 each) will be complimentary, and the catered dinner will be entrées like Grilled Atlantic Salmon, Lime-marinated Pork Loin, or a carving station of Herb-crusted Prime Rib. And we will be treated to live entertainment. So, we'll certainly get our money's worth. The Gondola Club area will be available to us from 5 to 9 pm (food and bar service ends 30 minutes prior to session close).
When the "Night Magic Glow" starts up at 6 pm, against a neon sunset sky, we'll venture out onto the field and walk among the balloons, saying "ooh" and "aah" and picking out our favorites.
Day 6: SUNDAY…FAREWELL MASS ASCENSION
So One More Balloon Session…The Grand Finale
Oh well, we know this may be a bit over the top. But when will we ever be back here to witness this singular spectacle again? So, we'll take ourselves back just one last time to Fiesta Park. And this will be the grandest show of all— the final day of this exuberant 9-day festival.
We'll know the routine by now. So, we'll "sleep in" a bit, then use Park & Ride to deliver us to the field in time for the 7 am Farewell Mass Ascension. We'll settle for breakfast and viewing from the Chasers' Club this time, and possibly use the money we save to purchase just one more Alpaca sweater.
Today we'll add the Artisan's Tent to our ventures, where the best of the best artisans display their work. And we'll pick up a few balloon pins on Main Street to remind us of some of our favorite balloons. And then we'll watch in awe as balloons and more balloons inflate and ascend, knowing that our memories of this spectacular event will last us a lifetime.
But wait… In fact, so far we've only taken the armchair version of this trip. So, we still have this entire travel experience ahead of us, and all that remains is to decide what year (in the near future) we will take this remarkable trip for real!
Carolee Duckworth is an avid traveler, an expert trip designer, and co-author (with Brian Lane) of the books Your Great Trip to France, Your Great 5-Day Trip to Paris, and Your Great 5-Day Trip to Loire Châteaux, available on amazon.com. The Great Trip Guide USA Master Trip Series of books will start coming out in 2022, expanding on these Armchair Trip articles. Visit GreatTripGuide.com for a free copy of our definitive guide to Packing: "How to Pack Like a Pro," and to receive periodic emails with new trip itineraries and travel tips. Ignite your passion for travel, while preserving your independence.