New CD by Vicki Lynn King: "Light Your World"
Reviewed for the NABBW by Anne Holmes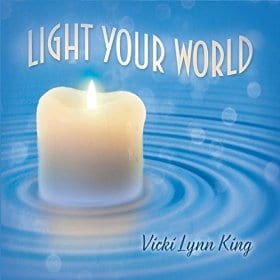 I chatted with Vicki recently about her music, and her books. I mentioned that for me, both were hugely inspirational, and that I had her newest CD on my computer, so that I can listen while I work. (Next step: download it to my phone…)
She replied: "This is the kind of music that I really long to sing because I think the songs can be such a blessing to others.
"My main focus for the rest of my life will be to sing and tell stories to inspire and move others. I have done so much of this in my life and I know that this is the primary gift God has given me to share with the world. If you know anyone who is looking to hire a singer~storyteller…please let them know about me."
This production includes lushly orchestrated versions of many favorites, including a number of praise hymns. Among my favorites: "Gold," "I Hope You Dance," "Always Be a Child," "What a Wonderful World," "Somewhere Over the Rainbow," and "You'll Never Walk Alone."
She also noted that her website, is being modified, to reflect her new singular focus on her singing and storytelling.