Tom: A Life Saved – Lives Lost
Tom: A Life Saved – Lives Lost
Amazon
Barnes & Noble
Author: Goffinet McLaren
Reviewed for the NABBW by: Anne Holmes
The Premise of this Dramatic Biography Could be the Plot for a WWII-focused Action Film Starring Viggo Mortensen or Brad Pitt.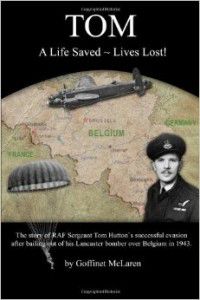 Here's the scenario:
It's April 16, 1943, a night with a full moon — and World War II is in full tilt. You're part of a seven-man RAF crew, flying a Lancaster bomber, during one of the RAF's largest Bomber Command sorties.
It's the middle of the night, and your hugely important mission – along with 599 other bombers — is to destroy the Škoda Works in PlzeňCzechoslovakia, one of the largest suppliers of munitions to the Nazi war machine.
Stationed in Wickenby, Lincolnshire, England, you and your entire sortie must cross the English Channel in the middle of the night in order to reach your target.Your 1,700 mile round trip takes you through heavily defended territory.  
As you approach the target city, your plane is hit, but your capable crew manages to keep flying. You drop your bombs on the target city and then you begin heading for home.
Unfortunately, the damage done to your craft is severe: Your plane loses oil pressure and one engine catches fire. Your captain gives the dreaded command: "Pilot to crew: Prepare to bail out."  
Obeying orders, you parachute free of the plane, eventually landing unhurt on top of a tree.
But your challenge now becomes this:  You don\'t know if you\'ve landed in Nazi Germany, or somewhere friendlier.
A local farmer comes along.
He doesn't know if you are a Nazi, posing as an Allied airman
You don`t know if he is a member of the Resistance who might help you.
(Cue the soundtrack music that indicates nail-biting drama)
As cinematic as this story sounds, it is not fiction. "Tom" is actually the true story of Tom Hutton, an RAF staff sergeant, who bailed out of his plane over Brussels in 1943, and was aided in getting back to his home in Ireland by Resistance fighters.
Adding to the reality of this story, our story's protagonist, Tom Hutton, is author McLaren\'s father. And the story she tells is based on her WWII research, aided by her access to her father's letters, notes, and journal.
It's clear that McLaren did a prodigious amount of WWII research for this book, which she dedicates "to all the members of the Belgian, Dutch and French Resistance." With a special nod to those who helped her father avoid capture and probably death at the hands of the Nazis. She notes that these special people "risked their lives and those of their families, as they helped Tom and other members of the Allied forces evade capture and …return to safety."
Author Goffinet McLaren was born just weeks after the end of WWII and grew up in Carrickfergus, a small historic town on the water`s edge of Northern Ireland. Although hostilities with Germany had ceased, her father, Tom, was still actively immersed in his post-war RAF duties. The war was not a topic of regular family conversation, but she was inevitably aware of her father\'s wartime escape.
This idea for book was born decades later, after McLaren found an old photograph of her father with a group of Belgian children who had visited her family home in Carrickfergus after the war.
That photo stimulated a renewed interest in understanding more of the details surrounding her father\'s escape, and led to years of research and two trips to Belgium and France. This book includes several photos taken during these trips, as well as fascinating bios of the many Resistors who assisted her father – including a very instrumental priest, l'Abbe Georges Goffinet, after whom McLaren is named.

Today Goffinet McLaren`s personal passion in life is to help stop the environmental destruction caused by plastic in our oceans and in our everyday lives. She has previously published a top-selling book, Sullie Saves the Seas to educate our younger generation about the damage caused by plastic to our global environment.