The Time of My Life: A Righteous Brother's Memoir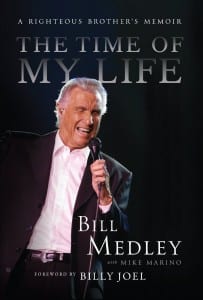 The Time of My Life: A Righteous Brother's Memoir
Author: Bill Medley with Mike Marino, Foreward by Billy Joel
Reviewed by Anne Holmes for the NABBW
I'll avoid the temptation to report that this is a "righteously good read," but I will promise you that this is an incredible memoir, full of soul and inspiration. Bill Medley, obviously one half (with his late partner Bobby Hatfield) of the pioneering "blue-eyed soul" group, the Righteous Brothers, tells a story that packs a punch. It's more than just his personal recitation of their many iconic musical hits.
But if you were looking for those stories, you don't be disappointed: Medley does include much of how he and Bobby Hatfield formed The Righteous Brothers in 1963 and forever changed the sound of popular music.  And it begins like this:
"I've had a life… and then some. Through some really great highs and some amazing lows my life has gone far deeper than I ever imagined it would. My ex-wife was brutally murdered; I lost my voice completely and was told I'd never sign again; I had hit records in four different decades, performed in dive bars and for the president of the United States."
He then goes on to explain about how whenever he does a concert he's asked so many questions that he began doing a storytelling portion of his show.  Regularly fielding questions such as: "How did The Righteous Brothers get their name? Did you and Bobby Hatfield get along? What was Phil Spector really like? Why did the Beatles and the Rolling Stones pick you guys to perform on their first American tours?"
And the incredible thing that began to happen, he says, is that people then came up to him after the shows, saying things like: "Man, I loved the show, but in the second half, where you did the actual story-telling thing, that was unbelievable cool." And Medley began to realize that he, too, would love it, if he could have the chance to sit down with Ray Charles, or Little Richard, and ask them what they were thinking when they did a particular song. He realized that audiences can listen to his songs at home, whenever they like. But they this doesn't tell them "the rest of the story:" Why you did the song, and how you felt when you did it. Which he realizes, as a performer, is almost as important as the song itself. (And knowing that certainly makes the song more memorable.)
So here's your chance to learn the "back story" to all those huge hits, including  "(You're My) Soul and Inspiration," "Unchained Melody,"  "You've Lost That Lovin' Feelin'," and Medley's duet with Jennifer Warnes for the Dirty Dancing soundtrack, "(I've Had) the Time of My Life," direct from the man himself.
Medley's story isn't just about the hits and the awards. It's about an immensely talented man who reached the pinnacle of fame, success, and excess, until the shocking murder of his wife, Karen. In time, this tragedy eventually helped him renew his commitment to both faith and family.