The Theft of Memory: Losing My Father One Day at a Time
Reviewed for the NABBW by: Anne Holmes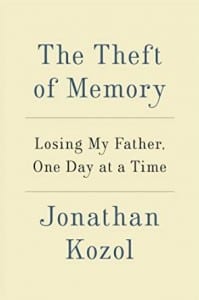 If you know National Book Award winner Jonathan Kozol for his lifetime of work among our nation's most disadvantaged children, you're aware of his seminal books like:
These books, along with about a dozen others, have branded Kozol as a fine writer, a man who, as his professional website says, "is best known as an advocate for low-income children."
Author Kozol is a Harvard graduate and former Rhodes Scholar, who has devoted nearly his entire life to the challenge of providing equal opportunity to every public school attending child.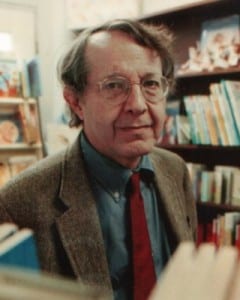 His work began during the passionate civil rights era of the mid-1960s, when he gave up the prospect of a promising career in the academic world, moved from Harvard Square into a poor black neighborhood of Boston, and became a fourth grade teacher.
But this book is perhaps even more passionate and more personal for Kozol. It is the story of his father's last days. Or more precisely, the story of his father's descent into dementia, specifically Alzheimer's disease, told against the tapestry of their intense father-son bond.
Many adult children, unfortunately, have been forced to stand by and watch a parent make this terrible one-way trip. But Jonathan Kozol's story is all the more poignant, because his father, Dr. Harry Kozol, was a brilliant neurologist. A nationally known specialist in disorders of the brain. A man gifted with extraordinary intuition, who had a special gift for diagnosing psychiatric illnesses in highly complicated and creative people.
And due to this talent, Dr. Kozol was able to provide his son – and through him, us – with a step-by-step narration of what it felt like as Alzheimer's began to take his life.
Classically trained at Harvard and Johns Hopkins, Dr. Kozol had originally made a name for himself through his treatment of the playwrite Eugene O'Neill, and later through his examination of criminal defendants in such Patricia Hearst and The Boston Strangler, Albert H. DeSalvo. But he was also a loving husband and a caring father. This book shares facets of that part of his life, as well, making a "whole story"  out of a life that spanned over 100 years, and was ended – almost ironically – by a disease Dr. Kozol's fellow neurologists have yet to conquer.
In the end, this is Author Kozol's memoir. His story of his parents' lives, told as he remembers it, with special attention to the time he and his father spent together, as his father Harry tried to retain his verbal and cogency skills. A battle of course, that he ultimately lost.  But do not think of it as a narrative of the progress of an unrelenting disease.
Instead, I believe, the book's greatest merit comes from the fact that few of us will ever have the opportunity to be as eloquent as either Dr. Harry or Jonathan Kozol, in discussing the bonds between an father and son. For many reasons, but especially this, The Theft of Memory is a very worthwhile read. Here's a link to an excerpt posted on Author Kozol's website.