The Love Fight: How ACHIEVERS & CONNECTORS Can Build a Marriage That Lasts
Tony Ferretti, PhD & Peter J. Weiss, MD
Reviewed for the NABBW by Anne Holmes
We've all seen it happen over and over, of course: The Hollywood marriages (Liz Taylor is probably the most famous), the sports star marriages (Tiger Woods, Mike Tyson, Lance Armstrong for example), and the politician or CEO marriages. And we've either joked about these folks being "serially monogamous," or taken bets on how long the marriage will last. (Years ago, I actually had a peer, a man who was a star salesman, tell me that his fiance "will make a good first wife.")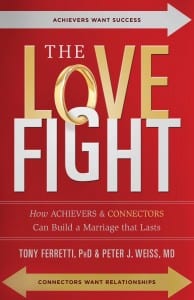 I have some first-hand experience with this syndrome, as I grew up in a high income neighborhood, and many of my friends had parents who had married repeatedly. My own father is currently on his fourth "significant other." (In his mid-80s, he doesn't "do" marriage any more.)
But seriously, what is it about power that seems to cause marriages to combust? Why is divorce epidemic among successful, "high-powered" people? How can these talented and hugely impressive people be superstars at work, but losers at love — or at least marriage? Wouldn't it seem that the same success drive that makes a person a winner at work would lead to a winning personal life?
Are these people somehow changed by success? Have their spouses been somehow unable to keep up with them?  Or, have they been secretly waiting to exit when the time is right?  More crucially, did they ever love their spouses?
Good questions, all. In The Love Fight, Drs. Tony Ferretti and Peter Weiss explain that the reason worldly successful individuals fail at home in their intimate relationships, often results from a mismatch of priorities and styles between the success-oriented "Achievers" and their relationship-oriented "Connector" spouses.
They point out that the mindset they dub "Achiever" is common in highly successful people of all social classes, perhaps especially so in America where such success is lionized and top CEOs are considered heroes. Common personality characteristics of Achievers include that they are hardworking, confident, competitive, emotionally unaware, detail-oriented, confrontational, critical, perfectionistic, and often gifted with a critical, controlling style.
And Ferretti and Weiss explain, since in our society "opposites attract," this usually results in Achievers meeting and marrying Connectors. Connectors being people who like to build, appreciate and desire relationships, and not only desire to belong, but also like to assist others as well as receive help and support from others.
Even a quick look at those two paragraphs shows you that the very same personality traits that propelled the Achiever to the top in medicine, law, business or politics (and which may have attracted a more relationship-oriented partner in the first place) often sow the seeds of destruction in their marriage.  These traits, and the differences between Achievers and Connectors, can create a dynamic of poor communication leading to anger, resentment, and eventual estrangement.But all is not lost, according to the authors, who claim to be reformed Achievers. Which is a good thing. (Yes, Martha Stewart is an Achiever.)
Bottom line: Whether you are an Achiever or a Connector, you'll find that The Love Fight will help you understand your spouse and yourself better. It's easy-to-read and understand style, simple assessments and exercises to evaluate your relationship, and straightforward strategies can help you develop an action plan to create the marriage you want.