The Crone Club (Volume 1)
The Crone Club (Volume 1)
Kindle Edition
Author:  S.V. Peddle
Reviewed by:  Anne Holmes for the NABBW
The Crone Club is about a group of reunited school friends who, having reached their sixties, vow to face new challenges, achieve old dreams and just generally band together to get as much fun as possible out of their current stage of life.
The novel begins with the women having gathered together for a school reunion, and chance to catch up on each other's lives.  We quickly meet them and just as quickly relate to similar character types we knew when we were in school.  In this story, their names are:
Susan:

 

is school she was the "bitchy girl" who was always trying to embarrass others and was up to no good. She's aged, but she hasn't changed.
Mary:

 

the quiet "good girl," she's now a widow who gives an enormous amount of her time to charity work
Cass:

 

Musically talented, but meek and overweight as a teen, she was verbally abused by her father, and now by her husband, Frank. She's "good to the bone," and deserves better. We learn that she's given up on her hope to perform her on compositions in public.

 

In school, her best friend was a girl nicknamed "George."
George:

 

A free-spirited extrovert as a girl, today she's a former ESL teacher, who's traveled the world. Currently, she's back in the UK, and driving a psychedelically painted car.
Jan and Jess:

 

In school they were fun seeking, outspoken and attractive twins.

 

We now learn they've made a bundle working in the film industry – as porn stars
Alison: a top student, she's now well-educated and well-spoken. In fact, she made a name for herself as a feminist professor
Bambi: Attractive and generous to a fault, she surprises the rest of the women when they learn that she's not only become rich, but she earned the money on her own. She is the owner of a very successful chain of spas called "Aphrodite." As she tells her friends, she "is Aphrodite," though in the process it seems she's also developed a bit of a "Midas touch."
After meeting again for the first time in 40 years, the women agree to stay in better contact with each other.  To do so, they form a club, which they dub "The Crone Club."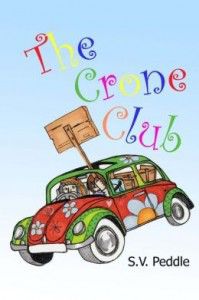 As members in good standing they each share a dream they'd like to realize, and a challenge they want to achieve. More importantly, each woman agrees to take steps to realize both before their next reunion.   In other words, each has a chance to "reinvent herself."  They each set large goals. For example, Cass's dream task is to leave her abusive husband and her challenge is to perform one of her own musical compositions in public.
The book is filled with wonderful and colorful characters, and you cheer for them all along. It's also somewhat simplistic: People are either "good" or "bad."  And everything seems to happen more quickly than might in real life. But despite this, it's a very fun read and you will find yourself rooting for the characters and turning pages furiously.  
The book spends the most time with Cass and George, and the chapters that relate to their travels in the psychedelic car are hilarious.
By books's end, you will be wanting more, and author S.V. Peddle promises not to disappoint. Six books are planned, each to be told from the point of view of one of the main "Crones."  Book two is already in the works. We'll learn more about George in Crone Club Mayhem, which is set to be published this spring.
Apparently, George, who marries at the end of this book, is really struggling with her new husband and her new life. We can't give more background because it would give away too much of the plot of this book. (Let's just says that given the story line of this book, it's a sure thing that when the crones intervene, there's a chance that a riot may ensue. )
By the way, S.V. Peddle is a pen name for Sandra and Vince Peddle. Baby Boomers and avid travelers, they have settled on the island of Jersey. The Crone Club, their third book, has just been selected as a monthly read by Goodreads.com's new  "Boomer Lit" group.