The Bankruptcy Alternative: Close Your Business Your Way, Without Bankruptcy. Save Time, Save Money, Save Your Sanity!
Title: The Bankruptcy Alternative: Close Your Business Your Way, Without Bankruptcy. Save Time, Save Money, Save Your Sanity!
Author: Bruce Bowler
Reviewed for the NABBW by: Anne L. Holmes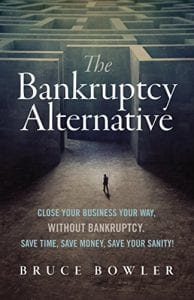 This is the fascinating – and almost incredible – personal story of Bruce Bowler, a serial entrepreneur who, faced to the fact that his business must close, decides to do a self-managed liquidation instead of Filing for bankruptcy. It's a story full of uncertainty and angst, but equally brimming with hope and Resilience. Bowler writes that he began the process of closing down Phoenix Custom Apparel in 2009. The process didn't end until early 2012. It's a story of two things: first, knowing when to "throw in the towel," and second, not quitting. And it's a good one.
I write from experience when I say this, because my husband and I lived through a similar experience. Our story began almost a decade earlier, in 2001, just after 9/11 hit. Exactly as with Bowler, my husband/business partner and I were faced with a huge decision: whether or not to declare bankruptcy. But our point of decision did not came upon us slowly, as Bowler's did. Instead it literally came out of the blue.
As many people may remember, September 11, 2001 dawned with gorgeous, clear, blue, sunny skies. On that day we owned a successful public relations firm which specialized in web development. We had a staff of close to 20, and a correspondingly huge payroll that was supported by long-standing contractual agreements with all of our clients. We were considering whether or not to buy our office building. Life was good.
But 9/11 caused a seismic shift in our business world, even though we were located in the Midwest, far from the falling towers and crashed planes. Despite our geographic distance, the business world stumbled and lost confidence. Before the week was over, more than 90% of our clients had cancelled their current and projected projects, saying this was not a good time to be spending money.
Faced with a decimated income, we immediately consulted our accountant. Our question: how to move forward? Our CPA definitively advised immediately filing for bankruptcy protection. But I was strongly against it. How would our employees fare? And what about the few remaining clients we still had? They relied on us. Who would complete their work?
For those reasons, we pressed our accountant for an alternative. And thus began our own saga of recovery. In many ways, Bowler's story and ours are similar: The economy tanked, clients disappeared, the decision to declare bankruptcy or not is faced. Decision made, the debts have to be settled.
Reading this book was a very personal experience for me, because I had visceral empathy for every step Bowler makes. And, because I know that the business world is one of cycles, I know there will again come a time when the economy tanks, and more small business owners will be faced with the decision of when and how to close down their "baby."
For this reason, I highly recommend this book to all small business owners. Logic says there will likely come a day when they, too, have to make the decision whether or not to close down their business. If  the answer is "yes," then of course the next big question is how to go about doing it.
Bowler says that the day he made the decision to close Phoenix Custom Apparel he literally felt like he had stepped into a black hole in space. He prayed he would be able to pull the light in with him. But when all was said and done, he notes that he kept his sanity, his credit rating, and his home. (Not to mention that he kept his spouse. It's been my observation that a huge number of business owners whose businesses fail, also end up divorcing.)
Best of all, Bowler says he feels good that whenever he applies now for credit, he can still answer "no" to to the question, "Have you ever taken bankruptcy?"