Surviving
Lois Trader
www.loistrader.com
Reviewed by:  Anne Holmes for the NABBW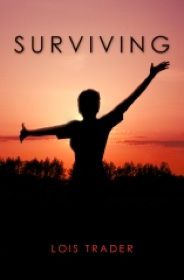 There\'s a lot to be said for this small (110 pages) book. It packs a big punch.
"Surviving" is Lois Trader\'s personal story of how her life was shaken by heart disease, the number one killer of American women. As she says, it is "a personal journey of being diagnosed with heart disease — and learning to live with it!"
With warmth, candor, and a huge dose of humor, she shares her story of literally dying of a heart attack, recovering, and, even more important, rising above her "brokenness."
In her own words:
I am your neighbor, your sister, your co-worker, the woman next to you panting on the treadmill and yes, that\'s me you see Saturday morning at the grocery store.

I am not a doctor, and this book isn\'t a medical guide, nor is it another book filled only with facts, figures, and data.

It\'s an honest story by someone who has lived through the trials of life and matters of the heart. Women relate to women, especially a woman who shares what\'s happening deep within her chest.

Once you see my heart, your own heart will become clearer. I mean to empower and encourage you to take better care of yourself, to be your own advocate and trust your God-given intuition. Trust yourself. Love yourself. This is the heart of my message to you.
These days, Lois\' mission is to reach out to women with information that empowers us to better our lives. So many of us are busy with the cares and concerns of others (spouses, children, bosses, co-workers) that we neglect our physical health. And yet we all know — though we don\'t like to think about it — that we can\'t take care of our loved ones, if we are dead. so our mission needs to be survival!!
As Lois says, there\'s a reason why the airlines\' safety plan tells passengers that in the event of an emergency, each passenger is to put on your own safety mask first – before you try to help those around you. After all, without our own supply of oxygen, we cannot possibly properly care for others…
This book is Lois\' wake-up call to all women:
Know your risk factors for heart disease
Know the diagnostic tests that are available
Take control of what you can to lead a healthier and more enriching life
It is both an inspirational and practical book about the hidden disease that claims six times more lives than breast cancer and more than all cancers combined. Lois has created an excellent resource for all women – at risk or not.
As she points out, "There isn't a woman alive who doesn't have a part of her mending. It's instinctive. But we must start with ourselves and work out from there to reach others. We must survive."
If you\'re still on the fence about whether or not this book is for you, please take a moment to watch this fascinating video trailer for the book which features an original song by Michele Macias.
httpv://www.youtube.com/watch?v=C6btX00Fhxk&feature=related
Lois has been married to her husband for over 34 years, and says he is the best friend she has ever had.  These days she spends her time speaking to audiences about survival, the importance of taking care of yourself and her non-profit organization, the Los Angeles Center for the Broken.