Self and Soul: On Creating a Meaningful Life
Self and Soul: On Creating a Meaningful Life
Kindle edition
Barnes & Noble Nook edition
Author:

 

Lorraine Ash, M.A., foreword by Joseph Dispenza

http://www.LorraineAsh.com
Reviewed for the NABBW by:

 

Anne Holmes
 This is a brief but powerful  memoir, whose goal  is to speak directly to anyone who has experienced any sort of personal tragedy, life changing event  or trauma which has left them reeling, trying desperately to make sense of their lives and the world.  
As memoirs do, Ash begins by sharing her story: The wrenching trauma of how she and her husband lost their only child, Victoria Helen, to stillbirth at 42 weeks — full term — after experiencing what had been a perfect pregnancy.
Because she believes that healing takes place when kindred spirits share their stories, Ash takes the reader through her own very thorough search for meaning, spirituality and growth. Then expands the book's focus to help readers embrace and seek out meaning in their own.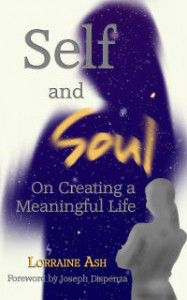 I highly recommend this  thoughtful  memoir.  It will help anyone who's engaged in a soul-searching journey, anyone who is looking for the meaning of life — whether or not they currently feel close to their God. If you feel you are leading a life of quiet desperation, this book is for you. You need not have lost a child to benefit from it. In it you will find encouragement and inspiration.
One caution. Just because this is a small book, do not try to devour it all at once. Read it in small chucks, so you have time to savor and ponder the full meaning of Ash's words.
Lorraine Ash, MA, is an author, journalist, and essayist as well as a writing teacher. Self and Soul: On Creating a Meaningful Life is her second book. Her first memoir, Life Touches Life: A Mother\'s Story of Stillbirth and Healing, was published by NewSage Press and has circulated worldwide. When not writing books, Ash is a veteran journalist whose feature articles and series have won seventeen national, state, and regional awards and have appeared in daily newspapers across the country.