Re-Branding Yourself After Age 50: Re-Charge your Career, Start a Business or Achieve More Professional Success in Midlife
Re-Branding Yourself After Age 50: Re-Charge your Career, Start a Business or Achieve More Professional Success in Midlife
Author: Marva L. Goldsmith, AICI, CIP
Website: http://www.branding50.com
Reviewed by: Anne Holmes for the NABBW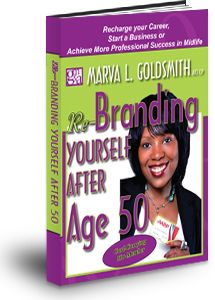 Like it or not, as Marva Goldsmith makes clear at the beginning of this book, we have all been branded! We've been branded in our careers, in the business marketplace, and even among our family and friends.
But the crucial thing you need to think about is who created your brand – and how did it happen? Was it the result of your own careful strategic planning or did it happen via decisions and/or actions outside your control – and created by someone other than YOU?
Most importantly, as this book makes clear, if you are 50+ and looking for a job, considering a new business or seeking more career success, you should not attempt to conduct a job search, market your products and services or get noticed using the same old methods –the same old resume – or the same old brand —  and expect to get a different result.  You must re-brand yourself in order to stand out from the crowd and achieve your desired result. And you need to involve social media techniques.
When you find yourself in the midst of a career  transition at MIDLIFE, you cannot compete in today's economy using old  methods.
Personal branding is all about differentiating yourself from your competitors – and the rest of the market. To do that, you need to understand what makes you unique and compelling. According to Goldsmith, ultimately branding comes down to three key components: personality, position and promise.  She defines each and takes you through your own process to create your own unique brand.
Goldsmith's book explains how updating your "personal brand" will help you:
•        Gain visibility in your niche market
•        Build a strong online reputation
•        Package yourself to align your Image with your goals
•        Identify the best tactics to achieve your objectives
A Certified Image Professional, Marva "walks her talk," as we say. She knows the reinvention process because she has lived it! From an electrical engineer, federal lobbyist and human resource strategist she reinvented her career to become a certified image professional, brand coach and national speaker.
The book features exercises at the end of each chapter to help you with your reinvention process. And, this is not dry, textbook learning. Marva shares reinvention success stories from her own process, as well as those of a half dozen 50+ men and women, each with their own challenges.
These days her passion is to help Baby Boomers create a road map and understand the role that image management (appearance, behavior and communication) and personal branding — the packaging of talents and signature traits into a marketable brand — play in our reinvention journey.  She has worked with clients as diverse as Fortune 500 companies to incarcerated youth, always spreading the good news about image and personal branding.
Note: NABBW Associate Judith Scherven, Ph.D., and her husband, Jim Sniechowski, Ph.D. are listed among the books contributing authors.