Project Keepsake: Everyone has a keepsake, and every keepsake has a story to tell
Project Keepsake: Everyone has a keepsake, and every keepsake has a story to tell
Amazon
Barnes & Noble
Kindle
Nook
Author: Amber Lanier Nagle and friends (Anthology)  Reviewed for the NABBW by: Anne Holmes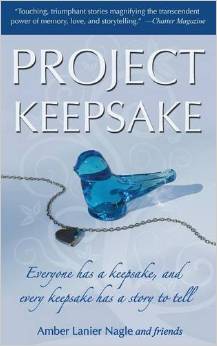 Amber Lanier Nagle has always been interested in keepsakes-a glass bluebird, a pocket knife, a dime-store locket, a faded fishing lure, a dented cake pan, a model train car, and so many others.
"Why do you keep this?" she asks. "Where did it come from?"
And then she listens as the stores and memories pour out. Project Keepsake is Nagle's crusade to collect and publish the stories that transform simple, everyday objects into priceless keepsakes.
Told in first-person by both seasoned and aspiring writers, each story in the anthology is unique, yet each reveals common threads that connect us all and celebrate the glorious human experience.
For those of us who cherish the smallest of things, found, given or inherited, Project Keepsake validates our desires and feelings.
As I read the stories, I thought of all the little "keepsakes" I have stored away; items that only have meaning to me, even though I hope they will someday for my children and grandchildren.
Regardless, they are in a safe place. Some on display and others in storage, each one has a story behind them. Thank you, Amber, for letting us all know that they matter.
As a reader, I found the stories life affirming. Ms. Nagle notes that "everyone has a keepsake and every keepsake tells a story."
I think the aspect of Project Keepsake that touched me most were the voices of each author and the stories that first build a bridge between writer and keepsake and then between writer and reader.
The gift here is seeing the value of ordinary items through the eyes of others. Each keepsake is a bridge between its owner and something bigger, something poignant, something or someone memorable. The keepsake is the link. The stories are a celebration of the very things that make us human and the fabric of our lives so rich.
Project Keepsake reminds me that we are all part of a larger family and on a common journey. A keepsake is so much more than a possession and Project Keepsake is so much more than a collection of stories.
"I hope the book inspires you to write your own keepsake story." –Amber Lanier Nagle