Self-Esteem For A Lifetime: Raising A Successful Child From The Inside Out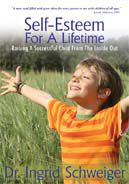 You know them when you meet them, children with high self-esteem—they are confident, self-assured and positive. More often times than not, these children will grow into well-adjusted and successful adults.
Dr. Ingrid Schweiger draws from over 30 years of experience as a psychologist to clarify the contributing factors in raising children with healthy self-esteems. The significant people in their lives have provided an atmosphere filled with unconditional love and acceptance, offered support through effective communication, and encouraged expression. This ideal atmosphere is not always easy to achieve, especially for parents and/or caregivers who suffer from their own compromised self-esteem, which may be coupled with the burden of overwhelming demands and expectations.
For some, it may seem an impossible task to step out of the negative to foster healthy thoughts and behaviors, but Dr. Schweiger assures that it is not. Getting back to a few basics, like effective speaking and listening skills, helps tremendously in bolstering a child\'s sense of self-worth; with a little practice the new positive approach becomes second nature, working wonders for both parent and child.
Self-Esteem for a Lifetime offers a concise and direct approach. Journal exercises along with gentle reminders are placed throughout the 116-page guide to a healthy self-esteem, and while the concepts are not new, they are presented in seven chapters of easy-to-grasp concepts and their application. Giving the gift of self-worth and value to a child is the ultimate expression of love, and it is a wonderfully rewarding experience; it is the gift that keeps giving back.
This book is now available on Amazon.