Move or Improve? The Baby Boomers Guide to Housing Options: How to Choose What's Right for You
Title: 
Move or Improve? The Baby Boomers Guide to Housing Options: How to Choose What's Right for You
Author: Debbie C. Miller
Reviewed for the NABBW by: Anne L. Holmes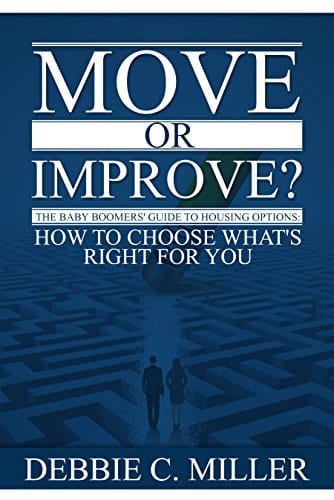 Author Debbie C. Miller is a licensed Realtor with over 20 years' experience specializing in assisting older (55+) home buyers and sellers. With her additional certifications as a Certified Senior Advisor, and a Lifestyle Transition Specialist
R
,  
she knows that her clients have a myriad of decisions to make.
And she knows that sometimes the maze of Moving-related decisions, combined with the emotions related to the process – not to mention the less- than-perfect eyesight and agility that often accompany the aging process – mean that the whole moving project can easily become overwhelming. 
My husband and I, Baby
Boomers
born in the 1950s, experienced some of the emotional and logistical stresses of a major move right after our youngest child graduated from college. We weren't yet at an age where we were ready to start thinking about retiring, but we'd decided to sell the home where we'd raised our kids, and move to another state, about 90 miles North, downsizing in the process.
We were initially excited about the move. Our businesses are online-based, which means we can work from anywhere. So we'd decided to move to a small town in a nearby state, where we'd owned a vacation home, a historic community we'd enjoyed visiting for years.
But, of course, the vacation home wasn't suitable for year-round living. So we planned sell our current full-time place as well as the vacation home and build ourselves the perfect new house. And in the meantime, once moved, until the new house was built we would rent.
That way, we reasoned, we'd be able to handily supervise the day-to-day decision-making situations that evolve during the process of home-building — something friends of ours who'd built homes in other states told us would be really helpful. AND, we reasoned, then when when the new home was ready — we'd be able to skip the selling process and move right in!
It all sounded so logical and simple. But the first hint of the challenges to come hit us when we started to assess what had to be done to our current home before we could list it and sell. And it got more challenging when we simultaneously had to manage our planned downsizing.   
Quite honestly, when I went to the lower level of our sprawling ranch home, which is where the kids had lived, I literally burst into tears. Not tears of sadness over the fact that the kids had successfully "flown the coop" — but tears of overwhelm related to the question of how I was going to manage the move.
It was around this time that both my knees were starting to show the first signs of what ten years later would evolve into total knee replacement surgery. And as I surveyed that level of the house — 2 bedrooms, a full bath, a large office, a spa room and two large storage areas my problem became very clear: There was TOO. MUCH. STUFF. Not to mention that the entire lower level needed to be painted, the floors needed to be replaced, the rooms needed to be decluttered and the whole house deep-cleaned. And that was before we even started in on the Packing! 
Let me say that my tears galvanized my husband. And thankfully, we managed to get everything done. But only with the help of family and friends, a huge garage sale, not to mention eBay sales, donations to the Salvation Army and Goodwill, gifts of major amounts of furniture and household goods to a series of nieces and nephews who were in need of furnishings, a full truckload carted off by the 1-800-GOT JUNK folks, an enormous amount of "stuff" that was deemed trash and hauled off by the garbage men — and eventually two round trips by the moving van!
BUT: we had to figure this move out all by ourselves. We'd never heard of moving specialists. And our Realtor, while a top-producer within his organization, wasn't much help.
All he advised was: you need paint, new carpet, and decluttering. He also advised that it was unfortunate that our house was blue, because people prefer to buy white houses. And, he opined,  if we weren't willing to change the siding color, at least we needed to make the garage door white. (Something that made no sense to us, since the home's exterior was a warm red brick with blue vinyl siding, and dark brown trim.)
I still think changing the garage door color to white would have been awful! And we sold the house without doing that. (But I have to admit, it didn't sell until we did the recommended interior painting and downstairs carpet replacement.)
Miller's book helps the reader ask all the necessary questions needed in order to know whether to stay or go. Something I wish we'd had when we made our epic move. And which I will use when our next move comes – which will either be to "age in place" in a smaller home in our current community – or the same sort of move – but to a state with a better tax situation for seniors —

and a more accommodating climate.
In closing, let me say two things: (1) My personal favorite part of the book is the flow chart she includes in her Downsizing Tips chapter. (2) If you are fortunate enough to have Kindle Unlimited, the Kindle version of the book is "free," – keeping in mind that Kindle Unlimited is $9.99/month.