Live Your Life: 14 Days to the Best You
Author: Ann LeFevre, PhD, LCSW, CMT
Reviewed for the NABBW by: Anne L. Holmes
Every time I start to write this review, I hear a song in the back of my brain: Firework, by Katy Perry. You know, the one with that great, very insistent and upbeat music, that's almost stressful — and the  lyrics that begin like this:
"Do you ever feel like a plastic bag
Drifting thought the wind
Wanting to start again
Do you ever feel, feel so paper thin
Like a house of cards
One blow from caving in
Do you ever feel already buried deep
Six feet under scream
But no one seems to hear a thing
                …"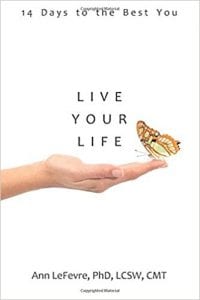 I think I associate the two because this book seems to address the very same frustrated feelings. In fact, the chapter titled
Day 8: Look for Opportunities
almost mimics the song when the first paragraph begins like this:
Do you ever feel stuck in a rut? Like your life has become an endless routine of getting up, going to work at a job your don't necessarily enjoy, working long hours, coming home feeling too tired and burned out to make a healthy dinner and certainly having no energy left to engage with your family or pets, and the thought of working out or going for a walk never even crosses your mind? …
Can't you almost sing that sentence to the Firework lyrics? I can.
And the frustrating thing is, Dr. LeFevre finishes that paragraph by telling the reader, "Congratulations. You are completely normal…some might even call that living the American dream."
But thankfully this book offers help. A way off the treadmill. So if you feel like you're stuck in a rut, overwhelmed by stress, and struggling to generate the momentum needed to improve your circumstances, you'll want to grab this book immediately. Why? Because it promises you a 14-day program designed to to help you kickstart a new and improved you.  Chapters are labeled by days — Day 1 through Day 14. And each ends with Thinking Points and Action Items.
And her program makes sense, because she's used the same information to help her own clients. In fact, the book came about after she had worked as a psychotherapist for nearly 20 years. At that point, she decided to share a series of lessons in her book, Live Your Life: 14 Days to the Best You. These lessons have inspired countless clients to take control of their lives, manage stress naturally and holistically, enjoy lives filled with meaning and value, and to start living the lives they always dreamed of.
For additional support and guidance, readers are invited at the beginning of the book to download a free companion workbook, and to view brief, informative videos throughout the book on Dr. LeFevre's website.
If you're not sure what all the "alphabet soup" appended at the end of  Dr. LeFevre's name means, let us clarify that she is a Licensed Clinical Social Worker, Certified Massage Therapist, and a Certified Acupressurist. She is also the founder of Restore Body and Soul, a health and wellness enterprise designed to meet the therapeutic needs of the whole person using research-backed Western and time-tested Eastern techniques.
Restore Body and Soul offers counseling for concerns such as depression, anxiety, insomnia and PTSD, as well as therapeutic and acupressure massage, workshops on self-acupressure and other health and wellness topics, and hand-blended bath and body products created to enhance wellness and relaxation.