Lessons from Zachary: Turning Disability into Possibility
Title: Lessons from Zachary: Turning Disability into Possibility
Author: Sandy Scott
Reviewed for the NABBW by: Anne Holmes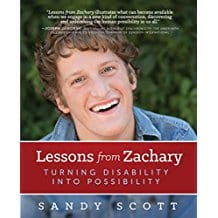 I was so delighted to learn about the existence of this book! For multiple personal reasons:
First, we are all living in today's world, which has sadly become rude enough that we've actually elected president a man who is so ill-mannered that during his campaign he actually called attention to and publicly ridiculed a handicapped New York Times reporter, who was simply and capably covering the campaign. I believe that as a society we need to educate our citizens the capabilities of persons with disabilities. (Especially since it is my opinion that everyone has at least one disability; it's just that some are more visible than others.)
Second, because I remember how shocked I was back in the early 70s, when the minister who was about to preside at my first wedding asked my prospective groom and me how we would respond if we were to give birth to a child who was handicapped. I had never given this possibility any thought. And at that moment I discovered that I was totally unprepared to even consider such a daunting possibility. (Thankfully, I never had to discover whether or not we two could have weathered such a significant life event. Though even without that stress, the marriage could not endure.)
Third, because my second husband was born in the mid-1950s with birth defects so severe his parents were told he would essentially be a "vegetable," likely unable to ever even sit up in bed. Thankfully, his parents raised him with a "can do" attitude, and I am lucky to have been married to this intelligent, caring, loving – and fully employed – man for almost 30 years.
It is for these reasons that I highly recommend this book, and thank Sandy Scott for recognizing the need for sharing Zachary's story with the world.
In her story, son Zachary was born in late 1990 with the appearance of perfect health. His APGAR score was high, and neither his parents nor the doctors had no reason to suspect he was anything but a perfect baby boy. But eleven days after his birth, when he started crying and could not be calmed, Sandy ended up at the hospital. There, she went from ER to the pediatric floor, and after batterie of tests, finally learned that Zachary was diagnosed with severe cerebral palsy and a potential life expectancy of less than one year.
Without any preparation, new Mom Sandy suddenly finds herself ripped for her past life, where she was a wife and Kinko's employee, and transported to a life centered on her son's hospital room, where she becomes the "mom of a very sick newborn," surrounded by a rotation of physicians, registered nurses, phlebotomists, epidemiologists, certified nurse assistants, nurse practitioners, pharmacists, physical therapists, nutritionists, social workers, clinics laboratory technicians, dietitians, diagnostic medical technicians, respiratory therapists, anymore physicians.
As she explains, her world and identity were " upside down, inside out, and then smashed to pieces."
I'll fast forward to current day, to tell you that Zachary is still alive and while he's largely non-verbal, he is able to live on his own in a condo.  But to find out how gets tot heat point, you'll need to read the book, as the story of this transition and the lessons Sandy, Zachary and her family learned are the hugely important stuff that make up the meat of this book.
 As Joseph Jaworski says on the book's front cover: "Lessons from Zachary illustrates what can become available when we engage in a new kind of conversation, discovering and unleashing the human possibility in us all."
This book is highly recommended. Especially for anyone who would like to learn how to use his or her own strengths to navigate the difficult situations that each of us will eventually find ourselves in, at some time in our lives. No one gets to live a golden, problem-free life forever. No one.
I will close by noting that Sandy has become a pioneer in the field of physician Coaching and was formerly the Director of The Coaching Project with the Colorado Department of Education and Director of the Advanced Leadership Program for Physicians at Banner Health. The book includes several useful tools she has developed to help people navigate life's challenges, find meaning and lasting fulfillment. Among them: her Life Wheel, her checklists, and her Miracle Question.