June Never Came: A Mother's Guide to Living After the Loss of a Child
June Never Came: A Mother's Guide to Living After the Loss of a Child
Author: Patricia Burgess-Southerland
Reviewed by Anne Holmes for the NABBW
This is a deceptively simple looking, small book. But author Burgess-Southerland has packed it full of coping strategies and healing projects she designed for herself after the loss of her son Zachary.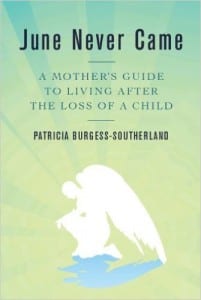 Early on, she explains to her readers that Zachary, died in a completely avoidable auto accident, at age 27. Her book's title comes from the fact that Zachary had been planning to visit her in June of the year he died. But grievously, that visit never happened because he was killed in May. Adding insult to injury, the accident happened the day before Mother's Day. The same day his Mother's Day card had arrived in the mail.
Suddenly, she explains, she realized that while women who have lost a husband are called widows, and children who have lost a parent are called orphans, the English language does not offer us a word for parents who have lost a child. It's not supposed to happen.
Now, more than nine years later, having shed a river of tears, uttered a mountain of prayers, and researched enough to know that while her Grief is unique, the cross she bears – having to survive the loss of a child – is not a singular experience, Burgess-Southerland has published this wonderful book.
In it, she takes fellow mothers on a journey of hope, offering coping strategies and healing projects she found beneficial, in hopes that she can ease the journey of other mothers who have lost a child.
The chapters are short, but they include projects, art therapy, massage therapy, music therapy, Journaling, and even a chapter on her experiences with a labyrinth.
NOTE: At the time of publishing this review, the Amazon Kindle Unlimited version of June Never Came is is available free.