Trading Ashes for Roses, From Pain to Passion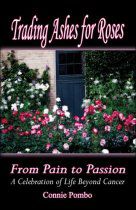 Connie carefully traipse you through her cancer storm with honesty and a deep sense of spirituality that immediately makes you want her as your role model should you ever be diagnosed with cancer. While it must have been a horrendous venture, she gently unravels the bad and the good in a way that makes you trust you\'d have the courage to follow in her footsteps if ever necessary.
Should you know someone with a cancer diagnosis, this is the book for both you and them. In addition to sharing her perspective of what it\'s like to be the patient, she genuinely offers appropriate suggestions for caregivers to understand suitable ways of treating their loved ones with a similar diagnosis. She offers an attitude that may allow them to approach the disease from a healthy perspective while telling you the best actions and words to offer them.