I Thought I\'d Be Done By Now: Hope and Help for Mothers of Adult Children Searching for Peace (Vol. 1)
 I Thought I'd Be Done By Now: Hope and Help for Mothers of Adult Children Searching for Peace (Vol. 1)
I Thought I'd Be Done By Now
: Hope and Help for Mothers of Adult Children Searching for Peace (Vol. 1)
Kindle Edition
Nook Edition
Author: Wendy Boorn,  MC LPC
http://www.MothersofAdultChildren.com
Reviewed for the NABBW by: Anne Holmes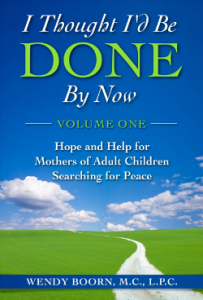 I Thought I'd Be Done by Now contains 183 one-page vignettes, or short stories, about adult children between the ages of 25 and 50. The author, Wendy Boorn, is a psychotherapist, with 34 years' experience, during which she served over 1,200 clients, including hundreds of mid-life parents. The book's stories , she says, are drawn from her relationships with her own adult kids and grandkids, as well as those of her clients, friends and family.
Boorn says she decided to write the book in hopes of providing courage, comfort and guidance to worried mothers of adult children.  (Fathers can read it too, she says. But mothers, she finds, are much more prone to worry.)
By teaching readers to exercise the "soul muscles" of curiosity, courage, humor, forgiveness, humility and love, Boorn hopes to teach parents to successfully navigate the delicate balance between holding on and letting go.
Boorn follows each essay with a succinct, one-sentence summarizing lesson designed to help put the specific situation into perspective. For example, the essay on the pros and cons of worrying ends with this lesson: "Worrying about our adult children is a destructive, rather than a life-affirming activity."  
The book addresses issues such as releasing guilt, learning to lighten up, and letting go of control. Thankfully, Boorn includes a topical index (examples being: acceptance, empowering vs. enabling, power struggles, worrying), which makes it easy to search for a story that meets your need of the moment.
Boorn began her career in the addictions field, where she developed and implemented innovative family treatment programs for eight years. For the last 25 years, she has been the owner of a private psychotherapy practice specializing in transitions, parenting, Grief, addiction, and relationship issues. A member of the American Counseling Association and the National Board for Certified Counselors, she is licensed as a Professional Counselor by the Arizona Board of Behavioral Health Examiners.
The author sees herself as a student as well as a teacher and believes that perhaps her greatest asset is an ongoing commitment to her own personal growth. She suspects that it is not just her expertise, but also her humility, sense of humor, and ability to empathize that make her clients want to work hard with her in therapy. She knows that she, and they, are wondrous works in progress, and thus her work is infused with compassion.
You will find excerpts of the book on Boorn's website: www.mothersofadultchildren.com