I.O.U. Sex: A Novel
Author: By Sandra Nachlinger and Sandra Allen
Website: https://www.createspace.com/3504716
Reviewed By: Anne Holmes for the NABBW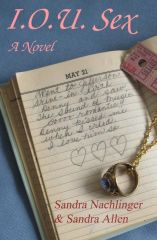 What happens when two women, friends since high school days in Dallas, decide to co-author a book? In this case, the result is a self-published novel, I.O.U. SEX, written by longtime friends, Sandra Nachlinger and Sandra Allen.
The authors met in junior high school, in Dallas, Texas. Over the years they stayed in touch, as best friends always hope they will, despite attending college, marriage, careers, children, several moves and eventually Retirement. Today, Nachlinger lives in Washington State, while Allen remains in Texas.
The book tells the story of three women — June, Kiki, and Peggy — friends since high school, who get together roughly three decades later, for a weekend of reminiscing. As entertainment, June is reading aloud from her diary, while they share drinks by the fire.
As they make their way through the diary, the women start jokingbawdily about the sexual frustration they had most certainly caused their steady boyfriends back then. Remember, their goal was to go out on a date, have a good time, and come back home by midnight, having successfully defended their virginity. After all, they were "good girls."
Then Kiki makes a startling statement which kicks the story into motion: "When you think about it," she says, "and I\'m only trying to be fair, we owe those guys sex."
Perhaps due to the quantity of alcohol they just consumed, or perhaps just out of curiosity, the women vow to track down their old boyfriends and just DO IT, so as to pay back their sexual debts.
The weekend ends, but the story is just beginning: The friends stay in touch over the months that ensue, sharing with each other all the sexy, poignant and even hilarious details of the results of fulfilling their missions. Of course, the first step is simply to find the old boyfriend, and in some cases that involves some sleuthing.
By the time you finish reading, you too will know whether or not each women succeeds in fulfilling her sexual I.O.U.You\'ll have laughed yourself silly. And you\'ll be hoping that authors Nachlinger and Allen decide to continue their long-distance collaboration, which seems to have worked quite well. You also may wonder just how much of their story is actually fiction.