The Women\'s Daily Irony Supplement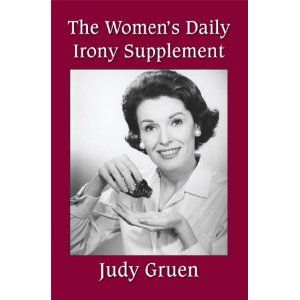 I\'m always skeptical of humor books because I think I\'m the funniest woman alive. I\'m not. Judy Gruen wins that trophy. A three time award-winning humorist, Gruen opened up my laughter box and wore it out.
The Women\'s Daily Irony Supplement
simply left me in stitches. The chapter headings alone were indicators that waiting inside were stories that would be fun, playful, and poignant. I wasn\'t disappointed.
Armed with her tool of choice, clean humor, Gruen attacks the laughter jugular as she spins her take on things like shopping, warning labels, parenting, taxes, holidays, and somehow manages to keep the giggles flowing from beginning to end. Amazingly funny; and amazingly clean humor, Men and women alike will definitely relate to every wrinkle in her life delivered with delightful tone, personality, and expression. Take some advice from one Baby Boomer to another; grab a copy of The Women\'s Daily Irony Supplement for your dose of what ails you…life\'s ridiculous and sometimes absurd plights.
Dr. Judy has the cure.