The Big Green Purse: Use Your Spending Power to Create a Cleaner, Greener, World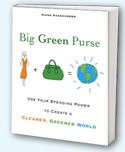 Diane MacEachern shares a wealth of knowledge about her area of expertise –
Going Green
. She believes women have the purchasing power to help solve our environmental issues. Diane offers concrete recommendations for making the best buying decisions that benefit our environment.
Whether you are new to the topic, or have been doing your part for the sake of Mother Earth for years, this remarkably comprehensive book is for you. It can be used as a resource to reference on occasion, or it can be read cover to cover. It is jam-packed with excellent information, educating us to be responsible eco-citizens.
Upon completion, you\'ll have thoughts of going green running through your head at every opportunity. Be prepared to walk away with an amazing desire and the know-how to do your part on a daily basis.