Games of Make Believe Delivers Believability
Title: Games of Make-Believe
Author: Julie Ann Wambach
Reviewed by: Anne Holmes
For the NABBW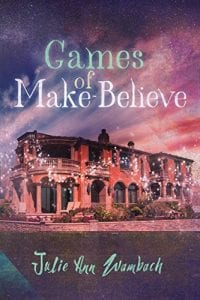 Given the book's title, it makes sense that it opens with a "once upon a time" fairy-tale format. Chapter One, "A Past So Grimm," begins: "Once upon a time, in an old house, way out in the Utah desert there lived many children. The mother was nice to her own two daughters. They were her favorites and she treated them like princesses. The mother was nasty to the other youngsters because they were stepchildren. She made them do all the work, and they hated Horrible Hannah."
Stepmother Hannah treats Susan, her twin sister Millie, and their triplet brothers, like drudges whenever their father is away on business, which is  most of the time. When he dies, the stepchildren's lives get rougher, and the contrast with how their two half-sisters are treated grows stronger.
Before long, the kids start taking off to live their own lives. Susan is the last to leave, marrying a high school classmate who has helped her stay in touch with Millie.
But it turns out he's not the savior Susan thinks he is. He drinks, he goes off on binges, and as two daughters are born, he is no help at all. Thankfully Susan, who has started going by the name Bella, develops a strong, supportive friendship with her mother-in-law Doris. With Doris's help, Bella divorces her husband and moves from Utah to Phoenix, Arizona, where she sets out to raise and support her daughters, while trying to find her way in a very strict church community.
Eventually Bella does meet her prince. Hal Prince, specifically. He's a nice man and they quickly marry. With this union, Bella is sure that her life has finally changed for the better – and that she and her "ladies" will finally get to live "happily ever after."
Unfortunately there is no fairytale ending here — just as there usually isn't in real life. Bella's immediate problem is that Hal has a daughter, Renata, from a prior marriage  – suddenly causing Bella to become a stepmother in her own right. Sadly, Renny never really warms to Bella — they have an oil and water sort of relationship.
But once the two meet, the book really begins. And then spans thirty years. Throughout these years, Bella continues to join different churches and embrace different philosophies in order to cope with the dysfunction within her blended family. Each of the remaining chapters of the book is a complete short story, so it's easy for the reader to put down and pick up the story without having to backtrack.
I too grew up in a sometimes dysfunctional family. So based on personal experience, this book rings true. In fact, for me it cuts too close to be truly enjoyable. Which means, in my opinion, author Julie Ann Wambach clearly knows of which she writes.
Initially I truly enjoyed this book. I loved the detail, the author's way of describing ordinary life, surroundings, etc. But I gradually became disappointed, to the point where I never actually finished the book. Probably because while the story is well-written, the story told is purposefully extremely banal.
Why? To match the cadence of the lives of the protagonists, I believe. The book deals with a highly dysfunctional family, with abused children, so while it reads realistically, it's not a rollicking, fun read.
Perhaps you're wondering a bit about the author, Julie Ann Wambach. How did she come to understand so well how dysfunctional families work?  She received a B.S. degree from the University of Wisconsin-Madison, then taught high school speech communication and English for 5 years. Next she completed an M.A. in Speech Communication and Ph.D. in Adult Development and Aging at Arizona State University.
While a Professor of Human Communication at Scottsdale [Arizona] Community College, Wambach published two textbooks and numerous articles in juried academic journals and professional magazines. She has counseled individuals and married couples, and has been a speech writer, coach, and editor for administrators and elected officials.
In her work, she mediates disputes for a variety of nonprofit and governmental entities. Personally, she comes from a large family and has always been interested in the dynamics of both her own family and those of her friends and acquaintances.  She's lived in Arizona for many years and this is her first work of fiction.