Four Funerals and a Wedding: Resilience in a Time of Grief
Four Funerals and a Wedding: Resilience in a Time of Grief
Amazon
Barnes & Noble
Author: Jill Smolowe
Reviewed for the NABBW by: Anne Holmes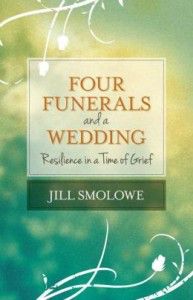 Jill Smolowe has written an amazing book. A memoir that covers a seventeen month period of her life, during which she buries her husband, her mother, her mother-in-law and her sister – though the deaths do not occur in that order – it's written like a novel.
What makes the book amazing is that is not maudlin or sad or sappy. It's actually uplifting – and not just because it ends with the "life goes on affirmation" of a family wedding.
Perhaps Smolowe is able to detach herself form her grief and command such clarity in writing of her experiences because she is a gifted and award-winning journalist who has written for Time, Newsweek and People, as well as contributing articles and essays to a number of publications including The New York Times, The Boston Globe, and The Washington Post Magazine.

Perhaps was able to successfully tell this story with such honesty because she has a great editor who helped her keep her focus.

Or perhaps the truth of how she has so capably told her story with such a bracing lack of sentimentality comes via research Smolowe discovered during this time period and shares here with her readers.
Specifically this: Our conventionally accepted five-stage model for grief discounts our human capacity for resilience.  The traditionally accepted grieving process — made famous in the 70s by Elizabeth Kubler-Ross — takes us sequentially through steps of denial, anger, bargaining, depression, and acceptance  — and always in that order.
Yet more recent research on the topic of grief reveals that we are actually hardwired to deal with our losses much more efficiently—not by graduating through static phases. We don't just endure, we prevail, according to Ruth Davis Konigsberg, author of The Truth About Grief: The Myth of Its Five Stages and the New Science of Loss.
No wonder Becky Aikman, author of Saturday Night Widows: The Adventures of Six Friends Remaking Their Lives – another memoir which also deals with widowhood at a young age – and a reviewer of this book says:  "(Smolowe) is unsparing yet hopeful in sharing her very real story of persevering through tragedy to find new possibilities and joy."
More information on this newer grief research is available from one of the professors Smolowe consulted, George A. Bonanno, Ph.D., professor of Clinical Psychology at Teachers College, Columbia University, and author of The Other Side of Sadness: What the New Science of Bereavement Tells Us About Life After Loss. According to Bonanno's findings, the mourning process is not predictable, but incredibly sophisticated. While it may include anger and denial, it can also include relief and joy. It goes beyond mere sadness: it can deepen interpersonal connections and often involves positive experiences.
But in the end, I think we would all prefer to read a memoir – a true story of living through grief and coming out on the other side – than a book dealing primarily with researchers' findings.
For that reason, I heartily recommend Four Funerals and a Wedding. Especially since, if you haven't yet had to personally deal with grieving a loved one – you know your time will eventually come.