Secret of the Missing Crown: A Pilgrimage of Change
Author: By Sunday Larson with Art by Karen Vogel
Website: http://www.sedonasunday.com/press.html
Reviewed By: Anne Holmes for the NABBW
This small book is a treat to read, as well as a feast for the eyes. Beautifully published, it would make a very special gift. The book is a charming and perceptive union of words and images that again proves that angels appear in forms least expected and there is healing power in the red rocks of Sedona.
This book tells of a pilgrimage through the Sedona countryside. A special pilgrimage that teaches a woebegone artist and her guardian angel the secret to help them negotiate the tricky, taxing, and sometimes terrifying terrain of change.
Author Larson, who makes her home in Sedona, calls herself a muse maven and a creativity coach. "My art is inspiring women to engage with the Muse, her elegant power and eternal mystery, her panache, and her resolve to create change. In an act of sacred reciprocity for the many graces the Muse has granted me, I now share all that I know and all that I have to illuminate, radiate, and inspire the creative fullness of others."
As her life has been illuminated by the light of the Muse, she listened when the inner divine spirit said, "Dance, design jewelry, grow gardens, create art, write stories for me."
An experienced group facilitator of over twenty years, Sunday weaves rituals and devotional practices based on her background in modern dance, fine art, jewelry design, women\'s studies, and her spiritual path which includes a journey into the garden. Enjoy an excerpt here.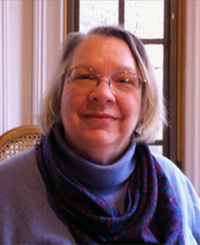 As "Boomer in Chief" of the National Association of Baby Boomer Women, Anne is passionate about educating, empowering and enriching the lives of Baby Boomer Women, as we now begin to age beyond our middle years and enthusiastically launch ourselves into life's next stage – which most people call old age. We Boomers know aging doesn't have to diminish us. We still have a lot to offer the world, and we continue to be ready and willing to enthusiastically participate.

Actively involved with a number of Boomer-focused organizations and committees, Anne keeps a steady finger on the pulse of this still-spirited generation, with the goal of helping us all to enjoy life, stay healthy and continue to live lives that are rich in every sense of the word. Beyond that, Anne is dedicated to helping facilitate the positive interaction between Baby Boomers and the hard-working younger generations who are readying themselves to "take the world's reins" and continue our efforts to move society in a positive direction.